Estimated Arrival: Between Mar 29 and Apr 01. *ETA to USA Only
Shipping & Returns: Free Shipping on most orders over $99. See our Shipping Policy for more info.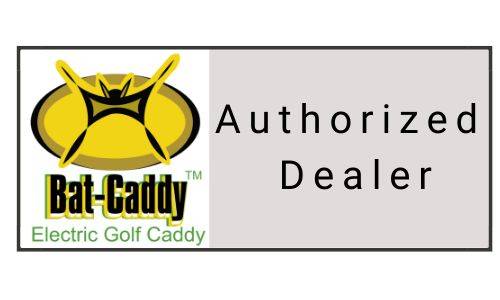 FREE Bat-Caddy Accessory Package:
Scorecard Holder

Umbrella Holder

Drink Holder
Ultimate Accessory Package for only $199!
Deluxe Seat

GPS Holder

Cooler Bag

Accessory Bag &

Water Bottle

Golf Towel &

Caddy Clip

Sand Holder & Beverage Holder
Overview
The lowest priced Remote Controlled Electric Golf Push-Cart on the market today. A fully directional remote control, Downhill Speed Control, included Oversized Anti-Tip Wheel, and the ability to choose the battery that fits your needs make the X3R an unbeatable value. The X3R is one of Bat-Caddy's best-selling remote-controlled caddies. Entering into its 11th model year the X3R has been fine-tuned, performance optimized and comes equipped with every conceivable feature and functionality at a world-class quality and most competitive price point.


Battery Options:
The X3R remote control caddy has three battery options:


1. Sealed Lead Acid (SLA) 36Ah (27 to 36 holes on a single charge)
2. Standard Lithium - Extended Life (36 holes + on a single charge)
3. Advanced Lithium - Ultra Lithium (54-72 holes on a single charge)


The X3R comes standard with the SLA battery. Or chose to upgrade to the longer lasting, lighter, more compact lithium battery. See below for battery specifications. Select your battery preference at checkout.  


Highlights:
The X3R features a lightweight high tech aluminum frame with tough stainless steel and durable polymer components, an easy two-step, one-click setup design, two powerful independently controlled motors, a wide range FCC authorized remote control which gives you full control up to 90-100 yards.
The X3R is now available with a standard powerful 35Ah sealed lead acid battery or with an ultra-light, long lasting lithium battery. The trolley can also be operated manually with a seamless rheostat control and can be easily pushed even without battery power, so you will never be stuck out on the course.
Bat-Caddy® electronic golf cart products are highly innovative and manufactured to the highest ISO 9000 quality standards. Based on its track record the X3R is one of the most high performance and competitive carts on market for motorized golf push carts and it represents what really counts in this market: Great Balance between Functionality, Performance, Practicality, Quality, and Value!
---
Features
Battery options: Includes either a high-quality sealed lead acid battery with a range of 27 to 36 holes on a single charge with a charging lifecycle of 150+ charges. Or upgrade to the lighter and more compact Lithium battery which can reach 72+ holes and can be recharged 500+ times. Includes a fast battery charger 2 to 3 hour
Durable and lightweight high-tech Aerospace Aluminum Alloy S-Frame and Stainless-Steel Components
Powerful but quiet independent electric Dual motors
The drivetrain eliminates the less reliable gearbox for direct drive motors concealed in weather protected aluminum casing.
Easy to use multi-function control T-handle includes digital display, USB device charger port, battery level, speed and braking functions, timers, on/off button
Easy to control multi-function remote control can start, stop, turn, power on/off, and has a 30-yard operating range
Electronic braking system slows down the caddy on down hills
Distance timer setting: Sends caddy out on its own up to 10, 20, 30 yards Easy to control in freewheeling mode when power is off.
High-tech, rubberized front and back wheels with wide tracks for easy maneuverability and superior traction
Anti-Trip single rear wheel or the optional double rear with for even more stability
The torch motors operate in sooth a manner switching between functions – there no jerking or stopping and starting between direction and speed adjustments.
All parts and components are completely waterproof and weather resistant
Easy One-Click Fold Design: collapses into one piece (not three like others) in seconds to fit in any vehicle trunk - No engineering degree required!!
One year warranty on caddy, parts & labor, and electronics

A one year warranty on the SLA battery and two-year prorated warranty on the Lithium battery
10 Day money back guarantee (See warranty info for details)
Free Shipping in the continental U.S.A.
---
Specifications
Remote Control: Yes
UBS Port: Yes
Speed Control: FCC Authorized Remote Control (range up to 80-120 Yards) plus Manual Control, Function: Forward, Reverse, Left & Right, Stop, Timed forward advance function: 10, 20, 30 yards, Cruise Control, 9 forward and reverse speeds. Power-off Freewheel.
Motor: Dual 200 Watt (400 Watt), 12 V DC Electric
Drive Train: Rear Wheel Direct Drive, Dual independent transmission
Battery:
Option 1: 12V, 35 Ah Sealed Lead Acid, Dimensions: 8" x 5" x 6", Weight: ca. 24 Lbs, Average Charge Time: 4-6 Hours, Lifetime: ca. 150 - 200 charges* Also: 12V 25Ah Option 2: Lithium battery @ 5-6 lbs and 500+ charges
Charger: Input: 110-240V AC, Output: 12V/3A-4A DC Trickle Charger
Weight: Net Weight Caddy: 23 Lbs (10.5kg), Net Weight SLA Battery: 24 Lbs (11 kg), Net Weight LI Battery: 6 lbs Total Net Weight: 29 - 47 Lbs
Speed: 5.4 m/h (8.6 km/h)
Distance/Range: 13 m/27+ Holes/6-8 Hours
Dimensions: Unfolded: Length: 43", Width: 24.5", Height: 39"
Dimensions: Folded: Length: 32", Width: 22.5", Height: 12"
Rear Wheels: Airless, rubberized thread, Quick Release Mechanism, Anti-Tip Wheel included
Front Wheels: Airless, rubberized tread, Tracking Adjustment
Materials: Frame: Aluminum, Stainless Steel, Bag Support: ABS, Nylon
Warranty
We are proud to say that we are an Authorized Dealer for all of the brands we carry. All of our products come directly from the manufacturer and are covered by the Manufacturer's Warranty from the date of the original purchase, subject to the conditions and limitations.
Bat-Caddy Warranty Overview
Bat-Caddy will cover any defect in material and workmanship resulting from personal, normal use in accordance with the owner's manual.
The warranty is valid for one (2) year from the day of purchase for caddy, caddy parts, battery and electronics. Caddy accessories are covered under this warranty for 90 days. Lithium batteries carry a two (2) year pro-rated (2nd year) warranty.
The warranty is nontransferable and limited to the person who originally purchased the product. This warranty applies only to original Bat-Caddy products purchased in the United States from Bat-Caddy, a local fully authorized Bat-Caddy dealer or distributor.
Complete details are available on the Bat-Caddy Warranty page
Returns
We want you to be happy with your purchase and enjoy it for many years to come. If you decide you want to return your product, we will gladly assist you in the process. Please see our Return Policy for details.
Why Buy from Golf Caddie Outlet
FREE Shipping: Shipping is FREE within the continental United States on all orders over $99.
NO Sales Tax: You won't pay sales tax (unless shipping to Georgia)
Lowest Price Guarantee: We provide you with the lowest prices available online. If you find any of our products cheaper online, we will beat their price (note: products must be sold on Authorized Dealer website).
Authorized Dealer: Golf Caddie Outlet is an Authorized Dealer for all the brands we carry. All products ship directly from the manufacturer Brand New with a full warranty on file with the manufacturer.
100% Safe & Secure Checkout: We transmit website data over an encrypted SSL connection to ensure your credit card information is 100% protected. Additionally, our system does not store credit card information.
Excellent Customer Service: Have a Question? Need Advice? We are here to help. Just write us at info@golfcaddieoutlet.com or call us at

800-995-1627.
---
Bat-Caddy Battery Comparison
Budget
Best Value
Ultimate

Sealed Lead Acid (SLA)

12V 35 Ah

Ultralight & More Powerful
The X3 Series includes two additional models. The X3 Sport and the X3 Classic. You can also view the entire Bat-Caddy line of caddies here.
---
Bat-Caddy Battery Comparison
Budget
Best Value
Ultimate

Sealed Lead Acid (SLA)

12V 35 Ah

Ultralight & More Powerful

Ideal for the golfer who plays sparingly or is looking for the lowest price point.

Ideal for the frequent golfer looking for the best value. Also perfect for those without the strength to lift an extra 25lbs.

Ideal for the year-round golfer who regularly plays multiple rounds per day. Also good for those wanting extra peace of mind that their battery will not go out while on the course.
---
---
Customer Reviews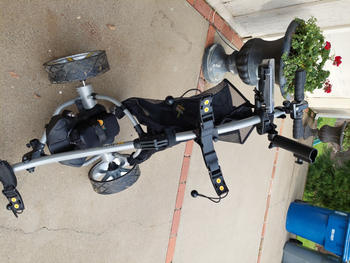 12/20/2021
??
Taken it out 3 times 2nd time wouldn't work at all. Battery charger gets hot immediately after plugging in to socket. Synchronization is bad..shouldn't have to do it each time.
Muriel O.

United States
07/18/2022
Returns
The item was good however I had to return it and it cost me $75 for returning it and not using it- what a scam!
07/04/2022
Easy to break down and reassemble. Getting used to the control took time and the left/right controls are very sensitive. Overall, happy with the product.
James C.

United States
07/01/2022
X3R
Ok, but I cannot adjust the tracking. keeps going LEFT. Videos did not address this model
WILLIAM M.

United States
06/07/2022
Love my Bat Caddy
Easy set up and very easy to operate on the course. I recommend using Ron, the Bat Caddy "pro" on YouTube. Several videos on set up, on course user tips and other info. Really enjoying the cart
Jeffrey S.

United States
06/04/2022
Bat caddy remote cart review
The experience has been good. I had not had any problems with it. My drift to the left. I have adjusted it several times with no luck. The more I use it the better, I like it. It is very convenient on the course, if you away from it and you need a different club or you finish the hole on the opposite side of your bag. I am not as tire at the end of the round using the caddy. It does take some getting use to the remote control. I have had to push and it was not too bad.
ulysses p.

United States
05/07/2022
Very relaxing game
Arrived on time. And was very easy to put together. Didn't even need instructions. First day out mastered control and had a great game. I knew that hauling or pushing a cart might make a difference. But was some much more relaxing and a better game not pushing or pulling or carrying my clubs. Highly recommend this fun cart. X3R
Bryan R.

United States
05/03/2022
Great Product but...
I do love my Bat-Caddy and think it is overall very well designed. However, the bolt that holds the front wheel on always loosens, and when you snug it tight (so that it won't) it effects the ability for the wheel to spin. Could have been better designed.
Danny S.

United States
04/19/2022
Golf Caddy
Awesome- Great value- well built- easy to use!
Robert S.

United States
01/29/2022
Satisfied
So far I am satisfied with my purchase. I have used it 5 times and was great...
Paul S.

United States
01/07/2022
Customer service
Quality and delivered quickly
Robert L.

United States
12/29/2021
A Good Walk (Not) Spoiled
Contrary to Mark Twain's comment about golf, my first use of the Bat-Caddy was the best walk I've ever had on a golf course, over 60 years. The experience of not huffing & puffing pushing a tricycle cart, and actually having a relaxing walk, at just exact right rolling pace, was simply a joy. I'm hoping that resuming walking after our hot weather has ceased here will be a continuing great experience. Perhaps improving my overall health as well. Golf courses are meant to be walked.
Edward R.

United States
12/16/2021
Makes walking easier
I received my cart two weeks ago and I was able to use it 3 times before our weather started getting cold, the cart worked great, the course I play is quite hilly and it performed excellently up and down the hills, the only complaint I might have would be the wheels wobble an little bit as it's going down the fairway, hopefully it does not cause any problems down the road.
Jeffrey W.

United States
12/08/2021
My first electric golf cart
Assembling the cart was relatively easy. I did get on YouTube to view instructions on how to adjust the steering adjustment. The only suggestion I have is to ask your engineers to design a larger storage bag. A great area would be that horseshoe area in back of the battery. I'm going to make one myself. Lots of fun to use!
Edmund S.

United States
12/08/2021
Bat Caddy X3R
Bought it for a Christmas gift. Person I bought it for will not have the opportunity to use it until after Christmas.
Rebecca D.

United States
11/18/2021
Great buying experience.
Very helpful customer service people.
Steven C.

United States
10/23/2021
Great electric golf bag caddy
Love the electric cart. Just had to figure out why it was tracking to the right. Simple adjustment. Makes walking for golf much more enjoyable. The lithium battery is the way to go - easy to install & remove and charge.
Gary M.

United States
10/22/2021
Michael S.

United States
09/28/2021
A Dussy
Amazing remote response and not as heavy as I anticipated. Looking forward to many years of enjoyment. I did need to adjust tracking but found it eas
James D.

United States
08/10/2021
Need to keep instructions more up to date
My parts were different than instructions, so had to call tech support. They were helpful and got me thru it. Do away with bungee cords and put Velcro straps instead. Won't hold it in place as well, so bag moves around causing cart not to track straight.
Mannon B.

United States