IMPORTANT: Pre-Orders of the item will ship mid-July!


Estimated Arrival: Between Jun 08 and Jun 11. *ETA to USA Only
Shipping & Returns: Free Shipping on most orders over $99. See our Shipping Policy for more info.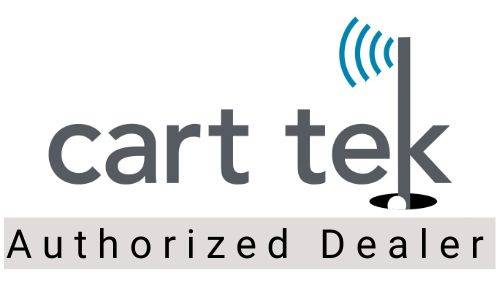 Cart-Tek Free Accessories Bundle 2022
Your purchase includes:
Adjustable Scorecard holder
Large Beverage holder
Umbrella holder.
Over $90 value for FREE!
Overview
When Cart-Tek combined cutting-edge design, proven technology, and durability, the resulting model became the GRi-975Li and is arguably one of the sleekest electric golf carts in the industry. The GRi-975Li is one of Cart-Tek's best-selling non-remote high torque dual motor electric golf cart. The downhill braking system gives this golf cart an advantage that keeps it from runny away on the downhill slopes pulling you down with it. Like all Cart-Tek carts, it comes with a powerful lithium battery that slips into your bag hiding the fact it's an electric cart or a battery basket is available if you choose to mount the lithium battery to the frame of the cart.
---
Features
Downhill breaking System for hilly courses
Variable Speed Control with "last speed memory"
Distance Control Function: Send cart out on 10 Second Timer
Aircraft grade 6061 aluminum frame structure - frame weighs only 21.5 pounds
Adjustable handle to fit any golfer: 36" when level, 45" max height
Integrated high torque motors and step gears
24 Volt, 7.5 Ah Lithium-Ion battery - 2.5 pounds, battery charger
Motors, gears, controller and all cables hidden inside frame
Quick and easy transition to "Free Wheel" mode
Oversized drive wheels for better control
Available in Gloss Black or traditional Silver – Powder Coated Frame

One year warranty on cart

Two-year limited warranty on the battery

Free Shipping to the continental USA and available to ship to Hawaii (see details here)
---
Specifications
Speed Control: Variable speed control with "last speed memory"
Downhill Braking: Built-in AMB system
Distance Control: 10-Second Timed Send-Forward
Frame Weight: 21.5 pounds
Battery Weight: 2.5 pounds
Handle Height: Adjustable handle to fit any golfer
Motors: Dual motors
Battery: 24 Volt, 7.5 Ah Lithium Ion
Battery Life: 18-36 holes depending on terrain
Battery Charges: Rated at 500 + charging cycles
Dimensions: Not Provided
Warranty
We are proud to say that we are an Authorized Dealer for all of the brands we carry. All of our products come directly from the manufacturer and are covered by the Manufacturer's Warranty from the date of the original purchase, subject to the conditions and limitations.
Cart-Tek Warranty Overview
If your Cart-Tek caddy requires repair during the warranty period or at any time thereafter Cart-Tek wants to quickly resolve the issue and get you back to walking the golf course. You can repair nearly all problems with telephone support by Cart-Tek customer-centric support staff. Cart-Tek will work directly with you to troubleshoot your cart. There is no need for costly and lengthy delays, shipping your cart back and forth.
In the Continental United States, during troubleshooting, if Cart-Tek determines that your cart requires a replacement part the new part will be expedited to you via prepaid priority mail. Cart-Tek will always try to resolve your cart issues by sending you a part and informing you on how to replace the part. If during the warranty period it is determined that your cart must be returned for repair, Cart-Tek will split the cost of shipping with you. You pay to return the cart and Cart-Tek will send your repaired cart back to you prepaid. For International, Alaska and Hawaii warranty repair, shipping charges are to be paid by the customer. Battery warranty is based on charging cycles and usage and is not time-dependent.
After the 1-year warranty period, Cart-Tek customer service is handled the same way. Cart-Tek just asks you to pay for shipping and reasonable parts costs.
Complete details are available on the Cart-Tek Warranty page
Returns
We want you to be happy with your purchase and enjoy it for many years to come. If you decide you want to return your product, we will gladly assist you in the process. Please see our Return Policy for details.
Why Buy from Golf Caddie Outlet
FREE Shipping: Shipping is FREE within the continental United States on all orders over $99.
NO Sales Tax: You won't pay sales tax (unless shipping to Georgia)
Lowest Price Guarantee: We provide you with the lowest prices available online. If you find any of our products cheaper online, we will beat their price (note: products must be sold on Authorized Dealer website).
Authorized Dealer: Golf Caddie Outlet is an Authorized Dealer for all the brands we carry. All products ship directly from the manufacturer Brand New with a full warranty on file with the manufacturer.
100% Safe & Secure Checkout: We transmit website data over an encrypted SSL connection to ensure your credit card information is 100% protected. Additionally, our system does not store credit card information.
Excellent Customer Service: Have a Question? Need Advice? We are here to help. Just write us at info@golfcaddieoutlet.com or call us at

800-995-1627.
---
---
Customer Reviews
07/09/2020
Excellent Product
My wife loves the new cart cart and it came only after a few days of ordering.
Thomas M.

United States