Estimated Arrival: Between Jun 08 and Jun 11. *ETA to USA Only
Shipping & Returns: Free Shipping on most orders over $99. See our Shipping Policy for more info.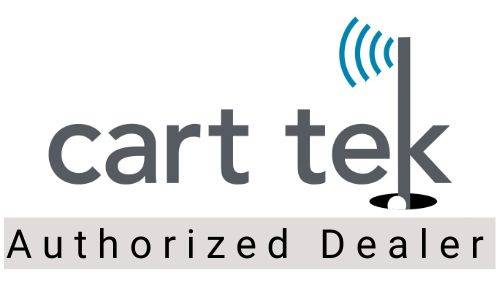 Overview
Limited Time Offer: Purchase includes adjustable scorecard/ball holder, plastic drink holder, and rugged ABS umbrella holder. Over $130 value for FREE!
Bonus Offer: We're including a "Caddie Pack" golf equipment bag with purchase, an additional $70 value for FREE!  
The 2019 version of the beautifully designed GRi-1000LTD is now in stock at Cart Tek. Cart Tek has incorporated German gearboxes from a 125-year-old firm plucked from the Porsche supply chain, adding high efficiency 40 mm German designed motors and enclosing all in a handcrafted "brushed" stainless steel chassis produced in a state of the art manufacturing facility. Stainless steel umbrella holder, scorecard/ball holder, and top grain leather handle grips have been added to finish this luxurious stainless-steel golf trolley for your enjoyment. You combine all of this with the proven Cart Tek electronics, German gearboxes, Lithium-Ion battery, and charger, and you have the GRi-1000LTD Limited
---
Features
Variable Speed Control with "last speed memory"
Downhill Braking, AMB system
Distance Control Function: Send cart out for 10 Seconds or 20 Seconds
Hand crafted Stainless Steel frame structure – frame weighs only 21 pounds
Adjustable handle to fit any golfer: 36″ when level, 45″ max height
Integrated 40mm high torque motors and German manufactured gearboxes
24 Volt, 10 Ah Lithium Ion battery – 2.5 pounds, battery charger
Two Year Warranty on Battery
Battery rated at 500 + charging cycles
Motors, gears, controller and all cables hidden inside frame
Quick and easy transition to "Free Wheel" mode
Oversized drive wheels for better control
Luxurious "Brushed" stainless steel frame
FREE Stainless Steel scorecard/ball holder
FREE large drink holder
FREE Stainless Steel umbrella holder
FREE Shipping within the Continental USA and available to ship to Hawaii (see details here)
FREE Caddie Pak
---
Specifications
Remote Control: No
Speed Control: Variable speed control with "last speed memory"
Downhill Braking: Built-in AMB system
Distance Control: Send cart out for 10 Seconds or 20 Seconds
Frame Material: Stainless Steel
Frame Weight: 21 pounds
Battery Weight: 2.5 pounds
Handle Height: Adjustable handle to fit any golfer
Motors: Dual 40mm high torque motors
Battery: 24 Volt, 10 Ah Lithium Ion
Battery Charges: Rated at 500 + charging cycles
Battery Warranty: 2 years
Free-Wheel Mode: Yes
Warranty
We are proud to say that we are an Authorized Dealer for all of the brands we carry. All of our products come directly from the manufacturer and are covered by the Manufacturer's Warranty from the date of the original purchase, subject to the conditions and limitations.
Cart-Tek Warranty Overview
If your Cart-Tek caddy requires repair during the warranty period or at any time thereafter Cart-Tek wants to quickly resolve the issue and get you back to walking the golf course. You can repair nearly all problems with telephone support by Cart-Tek customer-centric support staff. Cart-Tek will work directly with you to troubleshoot your cart. There is no need for costly and lengthy delays, shipping your cart back and forth.
In the Continental United States, during troubleshooting, if Cart-Tek determines that your cart requires a replacement part the new part will be expedited to you via prepaid priority mail. Cart-Tek will always try to resolve your cart issues by sending you a part and informing you on how to replace the part. If during the warranty period it is determined that your cart must be returned for repair, Cart-Tek will split the cost of shipping with you. You pay to return the cart and Cart-Tek will send your repaired cart back to you prepaid. For International, Alaska and Hawaii warranty repair, shipping charges are to be paid by the customer. Battery warranty is based on charging cycles and usage and is not time-dependent.
After the 1-year warranty period, Cart-Tek customer service is handled the same way. Cart-Tek just asks you to pay for shipping and reasonable parts costs.
Complete details are available on the Cart-Tek Warranty page
Returns
We want you to be happy with your purchase and enjoy it for many years to come. If you decide you want to return your product, we will gladly assist you in the process. Please see our Return Policy for details.
Why Buy from Golf Caddie Outlet
FREE Shipping: Shipping is FREE within the continental United States on all orders over $99.
NO Sales Tax: You won't pay sales tax (unless shipping to Georgia)
Lowest Price Guarantee: We provide you with the lowest prices available online. If you find any of our products cheaper online, we will beat their price (note: products must be sold on Authorized Dealer website).
Authorized Dealer: Golf Caddie Outlet is an Authorized Dealer for all the brands we carry. All products ship directly from the manufacturer Brand New with a full warranty on file with the manufacturer.
100% Safe & Secure Checkout: We transmit website data over an encrypted SSL connection to ensure your credit card information is 100% protected. Additionally, our system does not store credit card information.
Excellent Customer Service: Have a Question? Need Advice? We are here to help. Just write us at info@golfcaddieoutlet.com or call us at

800-995-1627.
---
Customer Reviews
05/27/2020
Yes
Excellent product. Assembly was intuitive and quick
Ira D.

United States