IMPORTANT: This is a Pre-order item that is due to ship early-June.
Estimated Arrival: Between Jun 20 and Jun 23. *ETA to USA Only
Shipping & Returns: Free Shipping on most orders over $99. See our Shipping Policy for more info.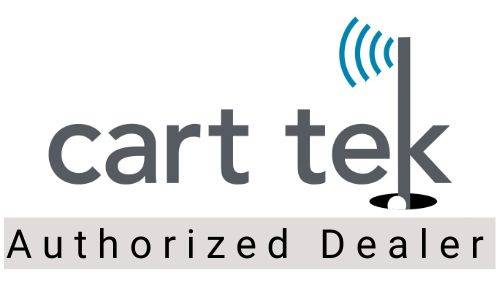 IMPORTANT: Purchases will be shipped in the order they are received. The expected ship date may be extended due to potential COVID-19 related manufacturing and shipping delays. 
Cart-Tek Free Accessories Bundel 2021
Your purchase includes:
Adjustable Scorecard holder
Large Beverage holder
Rugged ABS umbrella holder.
---
Overview
The GRi-1500Li model has been Cart-Tek's #1 selling motorized golf caddy since 2015, and now the updated 2020 GRi-1500Li V2 includes Slope Control - Active Steer Assist. This new technology automatically keeps the caddie on track by making micro-adjustments back to the original point of aim if it deviates off the user's intended path. Although the adjustments are 'micro', the convenience this provides is HUGE! You will be able to spend less effort maneuvering your caddie around the course, and more quality time chatting with your playing partners or getting ready to play your next shot.

Not only does the sleek design of this motorized golf caddy hide both motors inside the axle tube, but it also provides extra protection against the elements. The use of precision welded, aviation-grade 6061 aluminum creates the most rugged aluminum cart frame on the market. The 2020 Cart Tek GRi-1500Li V2 makes use of efficient 24v high-torque motors, as well as a 10.4 Amp Hour Lithium-Ion battery that lasts up to 36 holes depending on your course. Check out the full Features list below and see why the GRi-1500Li V2 from Cart-Tek is consistently considered one of the best electric caddies to own.
---
Features
Newly designed, programmable remote control with wireless pairing and Magnetic Mount.

Four factory speed settings, or program your own

Adjustable turning force and electronic tracking

Dual high torque motors and enclosed gearbox

Fully Adjustable handle: 37.5

″

when level, 46

″

max-height

24 Volt, 10 Ah Lithium-Ion battery weighing only 3.5 pounds

Battery rated at 500 + charging cycles

Comes with battery charger

Waterproof ECU housing for use in wet conditions

Quick transition to Free-Wheel Mode

Available in black, gunmetal gray, white and traditional silver – powder Coated frame

One year warranty on cart

Two-year limited warranty on the battery

Free Shipping to the continental USA and available to ship to Hawaii (see details here)
---
Specifications
Remote Control: Yes
Speed Control: Variable speed control with "last speed memory"
Downhill Braking: Built-in AMB system
Slope Control: Active Steer Assist
Distance Control: Not Available
Frame Weight: 35.5 pounds
Battery Weight: 3.5 pounds
Handle Height: Adjustable handle to fit any golfer
Motors: Dual motors
Battery: 24 Volt, 10 Ah Lithium Ion
Battery Life: 18-36 holes depending on terrain
Battery Charges: Rated at 500 + charging cycles
Dimensions: 32 × 28 × 13 in
Warranty
We are proud to say that we are an Authorized Dealer for all of the brands we carry. All of our products come directly from the manufacturer and are covered by the Manufacturer's Warranty from the date of the original purchase, subject to the conditions and limitations.
Cart-Tek Warranty Overview
If your Cart-Tek caddy requires repair during the warranty period or at any time thereafter Cart-Tek wants to quickly resolve the issue and get you back to walking the golf course. You can repair nearly all problems with telephone support by Cart-Tek customer-centric support staff. Cart-Tek will work directly with you to troubleshoot your cart. There is no need for costly and lengthy delays, shipping your cart back and forth.
In the Continental United States, during troubleshooting, if Cart-Tek determines that your cart requires a replacement part the new part will be expedited to you via prepaid priority mail. Cart-Tek will always try to resolve your cart issues by sending you a part and informing you on how to replace the part. If during the warranty period it is determined that your cart must be returned for repair, Cart-Tek will split the cost of shipping with you. You pay to return the cart and Cart-Tek will send your repaired cart back to you prepaid. For International, Alaska and Hawaii warranty repair, shipping charges are to be paid by the customer. Battery warranty is based on charging cycles and usage and is not time-dependent.
After the 1-year warranty period, Cart-Tek customer service is handled the same way. Cart-Tek just asks you to pay for shipping and reasonable parts costs.
Complete details are available on the Cart-Tek Warranty page
Returns
We want you to be happy with your purchase and enjoy it for many years to come. If you decide you want to return your product, we will gladly assist you in the process. Please see our Return Policy for details.
Why Buy from Golf Caddie Outlet
FREE Shipping: Shipping is FREE within the continental United States on all orders over $99.
NO Sales Tax: You won't pay sales tax (unless shipping to Georgia)
Lowest Price Guarantee: We provide you with the lowest prices available online. If you find any of our products cheaper online, we will beat their price (note: products must be sold on Authorized Dealer website).
Authorized Dealer: Golf Caddie Outlet is an Authorized Dealer for all the brands we carry. All products ship directly from the manufacturer Brand New with a full warranty on file with the manufacturer.
100% Safe & Secure Checkout: We transmit website data over an encrypted SSL connection to ensure your credit card information is 100% protected. Additionally, our system does not store credit card information.
Excellent Customer Service: Have a Question? Need Advice? We are here to help. Just write us at info@golfcaddieoutlet.com or call us at

800-995-1627.
---