Estimated Arrival: Between Mar 29 and Apr 01. *ETA to USA Only
Shipping & Returns: Free Shipping on most orders over $99. See our Shipping Policy for more info.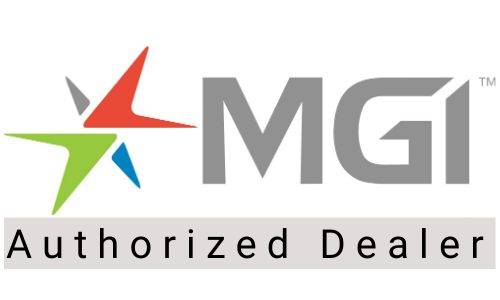 Limited Time Offer: For a limited time, until the end of the SALE, we're including these FREE ACCESSORIES (~$180 value for FREE):
Umbrella Holder

Drink Holder

Rear Wheel Covers

GPS/Smarthone Holder

Multi-purpose Clip
Overview
The MGI Golf ZIP X1 is the base model electric trolley in the ZIP series. With a smooth and quiet ride, ZIP X1 will do all the work for you so you can concentrate on your game. Signature features include:
Quiet Motor: the whisper-quiet 230-watt motor will power your trolley without interrupting you or your playing partners.
Speed Control: the variable speed control allows you to match the trolley's speed to your pace.
Anti-Tip rear wheel: the fully-foldable 4th wheel adds stability on hilly terrain.  
Battery Options: The X1 comes standard with a 250W lithium battery that can reach 18+ holes on a single charge or upgrade to a more powerful 36+ hole lithium battery.
Zip Fold System: With the newly engineered 'Zip Fold' feature, the caddie can be put away with ease in even the smallest cars.
Lightweight Design: The X1 is 12 percent lighter and 25 percent smaller than the previous model, allowing for absolute space-saving.
---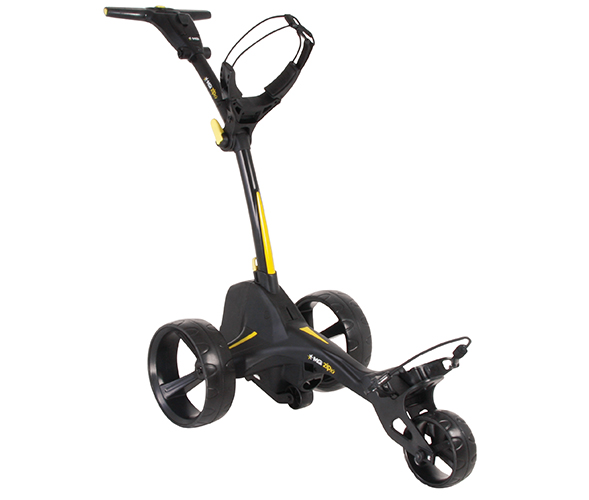 Features
Digital electronics with variable speed control and battery level indicator
Innovative Zip fold design
Powerful whisper quiet 230-watt motor
Fully foldable rear 4th anti-tip wheel for added stability
Lithium 250W battery that can reach 18+ holes on a single charge
Newly engineered Zip fold, three-wheel design
12% lighter and 25% smaller for absolute space-saving
Advanced Click & Go Lithium battery system
24v electronic system for efficiency
Ergonomic T bar handle Quick release rear wheels
Quick-release rear wheels, with All-Terrain tread
Includes Battey charger and everything needed to hit the course.
Please see the above warranty tab for complete terms and conditions of the warranty and return policy
Three-year trolley warranty on defects and parts
Three-year warranty on battery
Two-year warranty on charger
30-day return policy on trolleys in brand new condition
FREE Shipping in the continental USA
---
Specifications
Remote Control: No
Motor: Powerful 230W Motor
Battery: Lithium 24v battery reaches 18+ holes on a single charge. Includes Battery Charger -USB cord for remote charging (AC adaptor not included)
Dimensions:

Unfolded: 27.1 x 24 x 15.75
Folded: 23.6 x 18.5 x 16.9

Weight: 22 LBS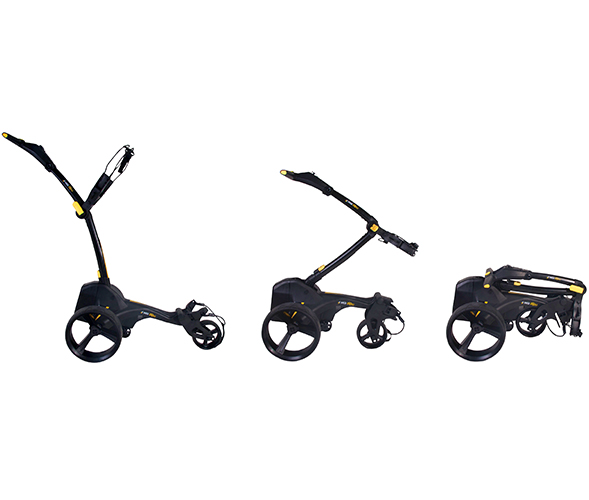 Warranty
We are proud to say that we are an Authorized Dealer for all of the brands we carry. All of our products come directly from the manufacturer and are covered by the Manufacturer's Warranty from the date of the original purchase, subject to the conditions and limitations.
MGI Warranty Overview
MGI offers a 2 year manufacturer warranty on manufacturing defects of all parts including lithium battery & charger. Please refer to the online user manual for all terms & conditions. As part of our strong commitment to our customers, MGI offers Warranty spare parts delivered at no charge and comprehensive DIY videos. In certain circumstances, authority will be given to send the cart to our preferred service centre for repair freight free. The cart is expected to be sent in its original carton.
Complete details are available on the MGI Warranty page
Returns
We want you to be happy with your purchase and enjoy it for many years to come. If you decide you want to return your product, we will gladly assist you in the process. Please see our Return Policy for details.
Why Buy from Golf Caddie Outlet
FREE Shipping: Shipping is FREE within the continental United States on all orders over $99.
NO Sales Tax: You won't pay sales tax (unless shipping to Georgia)
Lowest Price Guarantee: We provide you with the lowest prices available online. If you find any of our products cheaper online, we will beat their price (note: products must be sold on Authorized Dealer website).
Authorized Dealer: Golf Caddie Outlet is an Authorized Dealer for all the brands we carry. All products ship directly from the manufacturer Brand New with a full warranty on file with the manufacturer.
100% Safe & Secure Checkout: We transmit website data over an encrypted SSL connection to ensure your credit card information is 100% protected. Additionally, our system does not store credit card information.
Excellent Customer Service: Have a Question? Need Advice? We are here to help. Just write us at info@golfcaddieoutlet.com or call us at

800-995-1627.
---
Complementary MGI GPS Watch


MGI Axis GPS Watch
Featuring a sleek black design, you can wear this watch as an everyday timepiece or a wrist-worn GPS device.
Choose from over 38,000 worldwide golf courses and receive accurate GPS measurements.
Play smart golf with distances to hazards and never forget your score with automatic hole advancement which will remind you to enter your score then automatically move to the next hole.
---
---
Customer Reviews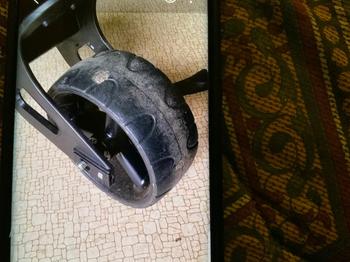 12/16/2021
Front wheel issue
On my second outing using the X1, the front wheel axle came apart during golf. I had to push the cart with the disabled front wheel off the ground for the last three holes! Not happy about that.
George C.

United States
12/13/2021
MGI Golf Zip X1
Good looking golf cart. Easy to operate. Well built and sturdy. Battery charging is fast. Reasonable price. Had it for about two weeks so far so good. I hope it will last for a long time.
Renato c.

United States
06/08/2021
Great product, great price and awesome customer service
I was looking for a lightweight, easy folding electric trolley with a few specific features. The MGI Zip X1 met all of my requirements at a great price from Golf Caddie Outlet. I chatted with Phillip to verify the features of the trolley prior to placing my order. My package arrived in 6 days! However, I ordered an additional accessory (scorecard holder) that was missing from the package. I contacted Customer Service via chat and was connected with Phillip once again. He worked to resolve the missing item and it was delivered today. Walking with the MGI Zip X1 has been wonderful. It is easy to handle and change the speed depending on the course and conditions, I can easily walk behind the trolley with very little adjustment of direction in the fairways. This allows me to have time to swing my arms while walking. It works well going uphill, which has saved my legs and back. The accessories also work well. I use the umbrella holder for sun and rain, the beverage holder for my water bottle and today I tried the GPS/phone holder while playing. I just received the scorecard holder and will try that later this week. The unit folds easily and can be transported in my golf cart or stored in a small space. All in all, I am very pleased with my purchase and the customer service that I received from Golf Caddie Outlet, especially Phillip.
Rita

United States
09/04/2020
Just got it
Used it 3 times? How can I judge? It better work well when it's new. (Pulls to left. Adjusted it per instructions, adjustment lasted about 9 holes before it began pulling to left again.)
Paul N.

United States
09/03/2020
Golf Caddy
Easy to assemble and operate.
Stuart P.

United States
07/17/2020
Most Excellent Gift!
Working with everyone has been far superior to any customer service we've ever experienced. From the family-golfer's perspective the caddy is outstanding, from the ordering and reordering (since I originally purchased the wrong one) perspective - so understanding of my inability to place an order correctly! We would certainly order from the Outlet Store again; the holidays are coming!
Patsy R.

United States
07/10/2020
Great Product!!
I have had my XP1 5 times Fredericksburg it last week. It is Awesome!!
Dante M.

United States
10/11/2019
Very nice and sturdy cart!
I owned a Batcaddy cart. So far I like this one far more. But ask me again in about a year. I have had it for about three months now. It has all the basic features. The motor is very quiet and climbs hills nicely.