Estimated Arrival: Between Jun 08 and Jun 11. *ETA to USA Only
Shipping & Returns: Free Shipping on most orders over $99. See our Shipping Policy for more info.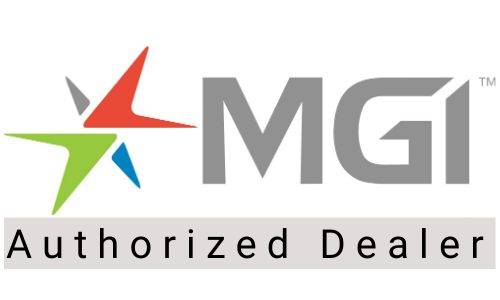 Limited Time Offer: For a limited time, until the end of the SALE, we're including these FREE ACCESSORIES (~$180 value for FREE):
Umbrella Holder

Drink Holder

Rear Wheel Covers

GPS/Smarthone Holder

Multi-purpose Clip
Overview
The MGI Zip X3 is a non-remote controlled caddy that will turn heads with its stylish look and modern design while at the same time requiring little effort to operate. For effortless play, the MGI Zip X3 is built on a platform of signature MGI features:
Controlled Distance Function: Send the Trolley in any direction 10-20-30 yards on its own.
Front-Wheel Option: It comes with a swiveling & lockable front wheel and
All-terrain Tires: grip the ground with confidence with all-terrain tread wheels.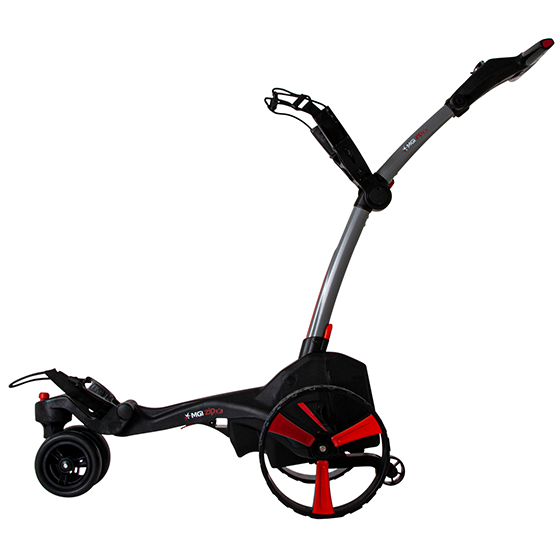 Advanced Digital Electronics: Valuable statistics, as well as distances walked and longest drive. 
Battery: The lightweight Click and Go 250Wh lithium battery can easily reach 18+ holes on a single charge or upgrade to a more powerful 380Wh 36+ hole lithium battery. Make your battery section at checkout time.
Zip Fold System: Fold up into a lightweight compact package that can fit in any car trunk.
Odometer: Resettable odometers for tracking distances walked or for measuring shot distance
Lightweight: 12% lighter and 25% smaller for absolute space saving
Handle: Ergonomic T-bar handle
Three-year trolley warranty on defects and parts
Three-year warranty on battery
Two-year warranty on charger
30-day return policy on trolleys in brand new condition
---
Features
Advanced digital electronics in the control panel
CDF enables you to select the desired distance of 10-20-30 yards to send the trolley out in any direction on its own.
Resettable odometers for tracking distances walked or for measuring the distance of a shot
Variable speed control with tap and go control
Swiveling and lockable front wheel for additional steering options
Gripping all-terrain tread rear wheels
Fully foldable Anti-Tip rear wheel for added stability on hilly courses
---
Specifications
Remote Control: No
Motor: Powerful 230W Motor
Battery: Lithium 24v battery reaches 18+ holes on a single charge (Optional Lithium 36+ hole battery upgrade. Includes Battery Charger USB cord for remote charging (AC adaptor not included.
Dimensions:

Unfolded: 27.1 x 24 x 15.75
Folded: 23.6 x 18.5 x 16.9

Weight: 22 LBS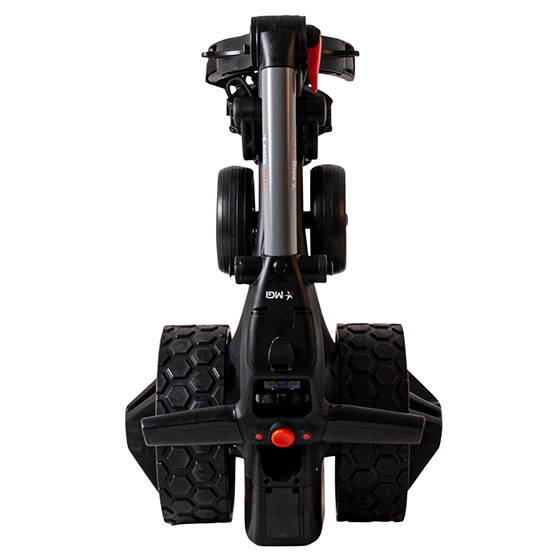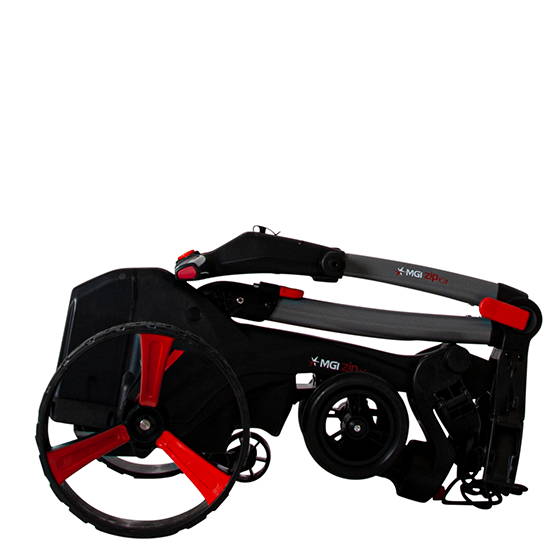 ---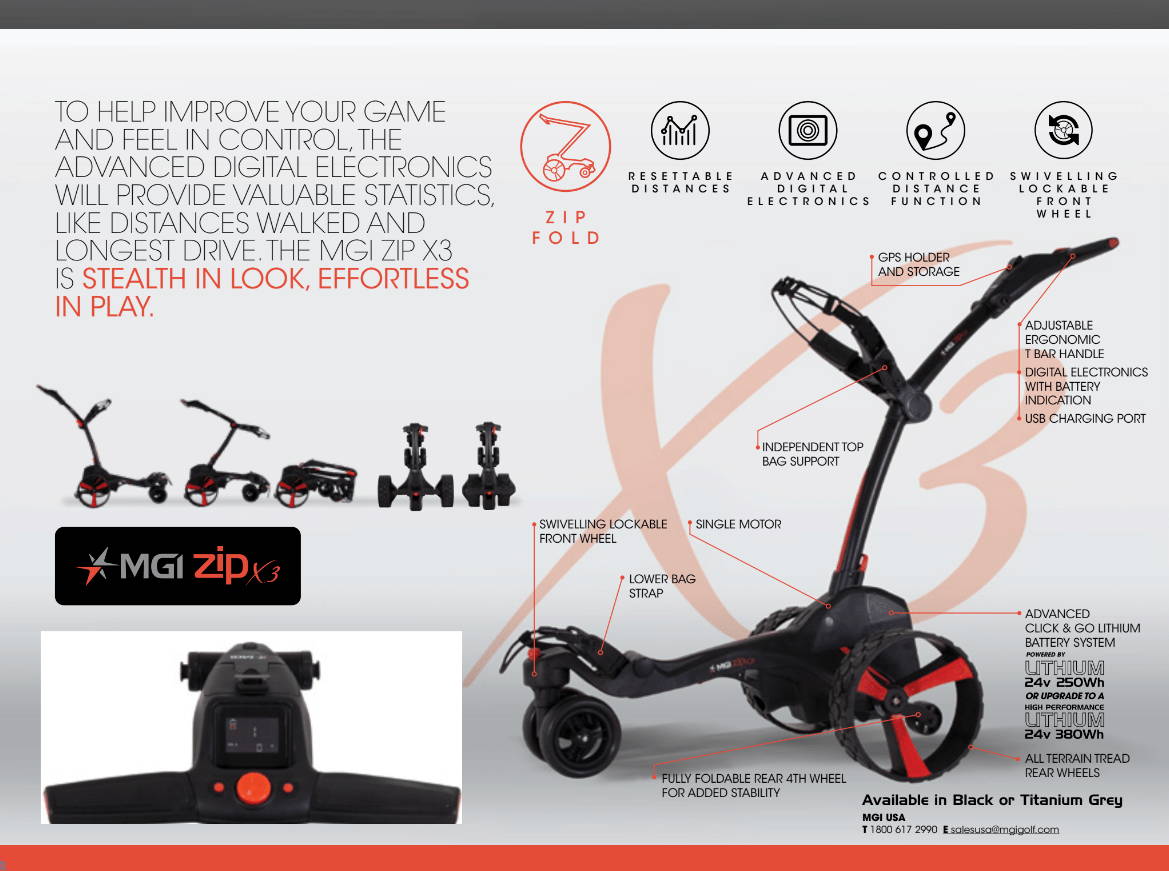 Warranty
We are proud to say that we are an Authorized Dealer for all of the brands we carry. All of our products come directly from the manufacturer and are covered by the Manufacturer's Warranty from the date of the original purchase, subject to the conditions and limitations.
MGI Warranty Overview
MGI offers a 2 year manufacturer warranty on manufacturing defects of all parts including lithium battery & charger. Please refer to the online user manual for all terms & conditions. As part of our strong commitment to our customers, MGI offers Warranty spare parts delivered at no charge and comprehensive DIY videos. In certain circumstances, authority will be given to send the cart to our preferred service centre for repair freight free. The cart is expected to be sent in its original carton.
Complete details are available on the MGI Warranty page
Returns
We want you to be happy with your purchase and enjoy it for many years to come. If you decide you want to return your product, we will gladly assist you in the process. Please see our Return Policy for details.
Why Buy from Golf Caddie Outlet
FREE Shipping: Shipping is FREE within the continental United States on all orders over $99.
NO Sales Tax: You won't pay sales tax (unless shipping to Georgia)
Lowest Price Guarantee: We provide you with the lowest prices available online. If you find any of our products cheaper online, we will beat their price (note: products must be sold on Authorized Dealer website).
Authorized Dealer: Golf Caddie Outlet is an Authorized Dealer for all the brands we carry. All products ship directly from the manufacturer Brand New with a full warranty on file with the manufacturer.
100% Safe & Secure Checkout: We transmit website data over an encrypted SSL connection to ensure your credit card information is 100% protected. Additionally, our system does not store credit card information.
Excellent Customer Service: Have a Question? Need Advice? We are here to help. Just write us at info@golfcaddieoutlet.com or call us at

800-995-1627.
---
Complementary MGI GPS Watch


MGI Axis GPS Watch
Featuring a sleek black design, you can wear this watch as an everyday timepiece or a wrist-worn GPS device.
Choose from over 38,000 worldwide golf courses and receive accurate GPS measurements.
Play smart golf with distances to hazards and never forget your score with automatic hole advancement which will remind you to enter your score then automatically move to the next hole.
The Zip X3 belongs to a series of MGI Zip Caddies which includes the Zip Navigator and Zip X5. You can also view the entire MGI line of caddies here.
---
---
Customer Reviews
07/29/2020
Zip 3 Golf Caddy
Have only used caddy twice but love it. Wife has one too and we both are so glad we purchased. At 70+ we love to walk the golf course but pushing cart for 18 holes is a little tough. This changes all of that.
Randy D.

United States
07/10/2020
Great cart
One item I can see could use some improvement is the speed setting dial. It is very easy to move, sometimes when I push to start the cart it changes the speed. Other than that everything works as advertised, definitely not as tired after a round vs push cart. Also a carry bag does not set on cart very well, had to go back to my old cart bag.
Gene G.

United States
05/06/2020
Golf and exercise.
Really fun and seeing the golf course from a different perspective. Love it!
Steven B.

United States