Estimated Arrival: Between Mar 29 and Apr 01. *ETA to USA Only
Shipping & Returns: Free Shipping on most orders over $99. See our Shipping Policy for more info.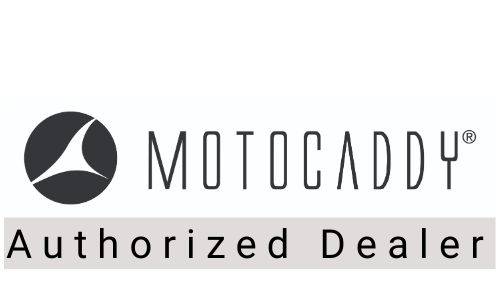 Limited Time Offer: Motocaddy trolleys come with a FREE Accessory Connection Station that allows you to easily connect accessories to the caddie frame.
Bonus Offer: We are also offering a FREE Accessories Combo Pack containing any two of the following accessories:
Phone/GPS Holder

Scorecard Holder

Drink Holder

Umbrella Holder
Overview
The M1 is an entry-level electric caddie famous for its small and compact size. The M1 has a sporty eye-catching look and it comes in a white or black frame.
The sturdy twin-tube aluminum alloy frame not only allows the 18+ hole lithium battery to remain in its tray when folded but also features an integrated accessory station, and an easy-to-use handle height adjuster. The M1 is gaining popularity because of its compact size which makes it easy to store and transport. So if you are limited in space this caddy may be for you.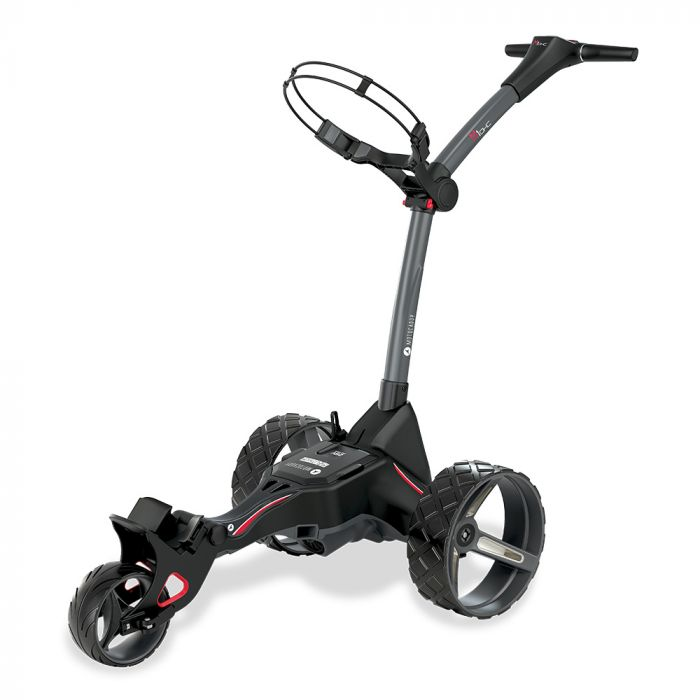 ---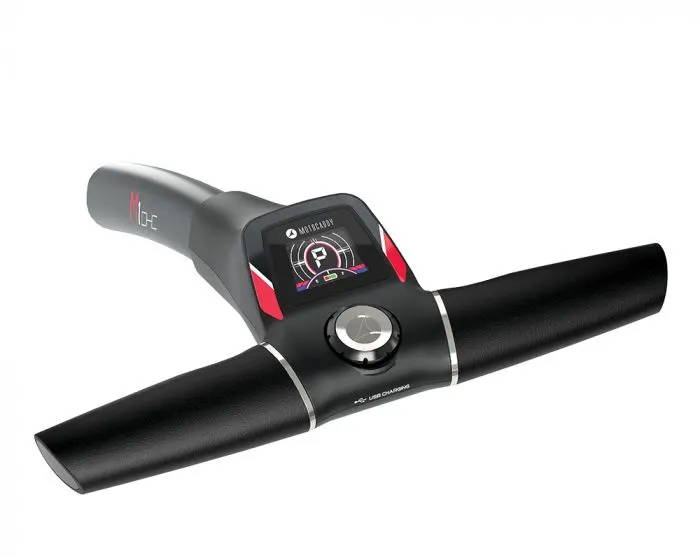 Features
Compact folding (over 40% smaller)
Adjustable handle height
Integrated Accessory Station
Quick-access device cradle
Nine-speed settings
Speed indicator
Battery indicator
Ergonomic handle
EASILOCK™ compatible
2-year warranty on the caddie & 5-year warranty on the battery
30-Day money back guarantee (see Warranty information)
Free Shipping in the continental U.S.A.
---
Specifications
Remote Control: No
Electronic Braking System: No
Speed Control: Adjustable
Motor: Single 230 Watt
Drive Train: Rear Wheel Direct Drive
Battery: 18 hole 28v (36 Hole Available)
Charger: Input: 110-240V AC
Weight: 23 Lbs
Dimensions: Folded:19.5 "(L) x 22"(W) x 13"(H)
Warranty
We are proud to say that we are an Authorized Dealer for all of the brands we carry. All of our products come directly from the manufacturer and are covered by the Manufacturer's Warranty from the date of the original purchase, subject to the conditions and limitations.
Motocaddy Warranty Overview
The cart and charger are covered by a 24-month warranty from the date of purchase. The warranty covers manufacturing defects that occur during normal use. Any breakage caused by accidental damage or as a result of abuse or misuse (as set out in the relevant manual) or commercial use is not covered. Motocaddy batteries are covered by a separate 24-month warranty.
Complete details are available on the Motocaddy Warranty page
Returns
We want you to be happy with your purchase and enjoy it for many years to come. If you decide you want to return your product, we will gladly assist you in the process. Please see our Return Policy for details.
Why Buy from Golf Caddie Outlet
FREE Shipping: Shipping is FREE within the continental United States on all orders over $99.
NO Sales Tax: You won't pay sales tax (unless shipping to Georgia)
Lowest Price Guarantee: We provide you with the lowest prices available online. If you find any of our products cheaper online, we will beat their price (note: products must be sold on Authorized Dealer website).
Authorized Dealer: Golf Caddie Outlet is an Authorized Dealer for all the brands we carry. All products ship directly from the manufacturer Brand New with a full warranty on file with the manufacturer.
100% Safe & Secure Checkout: We transmit website data over an encrypted SSL connection to ensure your credit card information is 100% protected. Additionally, our system does not store credit card information.
Excellent Customer Service: Have a Question? Need Advice? We are here to help. Just write us at info@golfcaddieoutlet.com or call us at

800-995-1627.
---
Customer Reviews
08/02/2020
Great customer care
I was out of country when it was supposed to arrive so I asked to delay the shipping. They handled it very well and communicated promptly. I received it right after my return and I've been using it a lot. I love the product! Highly recommended.
Todd L.

United States
05/19/2020
Valuable motorized golf cart
Easy and simple. Enough battery for 36holes.
hyun k.

United States
05/14/2020
Love the M1
Love the Motocaddy M1. Easy to use! Makes walking 18 holes so much easier!
Kathryn W.

United States
05/13/2020
Motocaddy m1
I'm enjoying using the Moto caddy M1 although we have very hilly courses And It can tip over going up and down very hilly terrain. I think this product is ideal for fairly flat courses. Overall the Motocaddy Runs well battery is easily rechargeable and it's lightweight which is paramount For portability.
Tim N.

United States
06/05/2019
Moto Caddy
It is the perfect was to walk 18 holes of golf with ease moto caddy trolley works great
Gary S.

United States
04/24/2019
Great customer service
Ended up with the Powakaddy c2i, as it had the features I needed, have loved the unit! Thanks for all your assistance ....much appreciated.
10/21/2018
Motocaddy M1 Pro
This electric golf buggy is fabulous! I had experience with the brand in Australia and knew that it would be a good purchase. I have used it several times and it is very easy to use. I would definitely recommend this buggy to anyone who wants to walk when they play golf.
10/06/2018
Well built machine
As I unpacked my Motocaddy M1, it was immediately clear that is was a high quality well built machine. It was easy to put together and is very straight forward to use. So far, I've used it for 7 rounds at a variety of courses. It has handled all of them with flying