IMPORTANT: This is a Pre-Order Item which will ship mid-August!
Estimated Arrival: Between Apr 02 and Apr 05. *ETA to USA Only
Shipping & Returns: Free Shipping on most orders over $99. See our Shipping Policy for more info.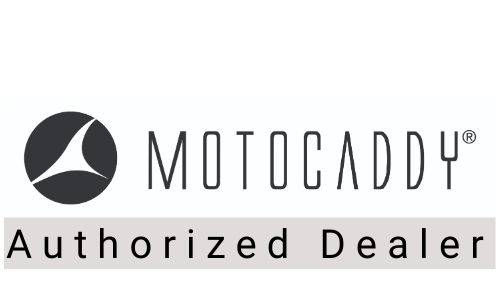 Limited Time Offer: Motocaddy trolleys come with a FREE Accessory Connection Station that allows you to easily connect accessories to the caddie frame.
Bonus Offer: We are also offering a FREE Accessories Combo Pack containing any two of the following accessories:
Phone/GPS Holder

Scorecard Holder

Drink Holder

Umbrella Holder

 
Overview
The latest in a great line of electric caddies, the M7 Remote features a 36-hole battery, rechargeable remote, downhill control, a rear anti-tip wheel, simple, compact folding system, nine speed settings, a lightweight, waterproof lithium battery, and adjustable handle height.
The M7 Remote is another feature-packed remote control electric caddy in the "M" series. The Motocaddy M-Series trolleys are more compact than Motocaddy's S-Series models, and are designed to fold compactly to fit in the smaller trunk space on European vehicles. The M7 Remote has a sporty eye-catching look, and a sturdy twin-tube aluminum alloy frame. Check out these additional features on the M7 Remote from Motocaddy.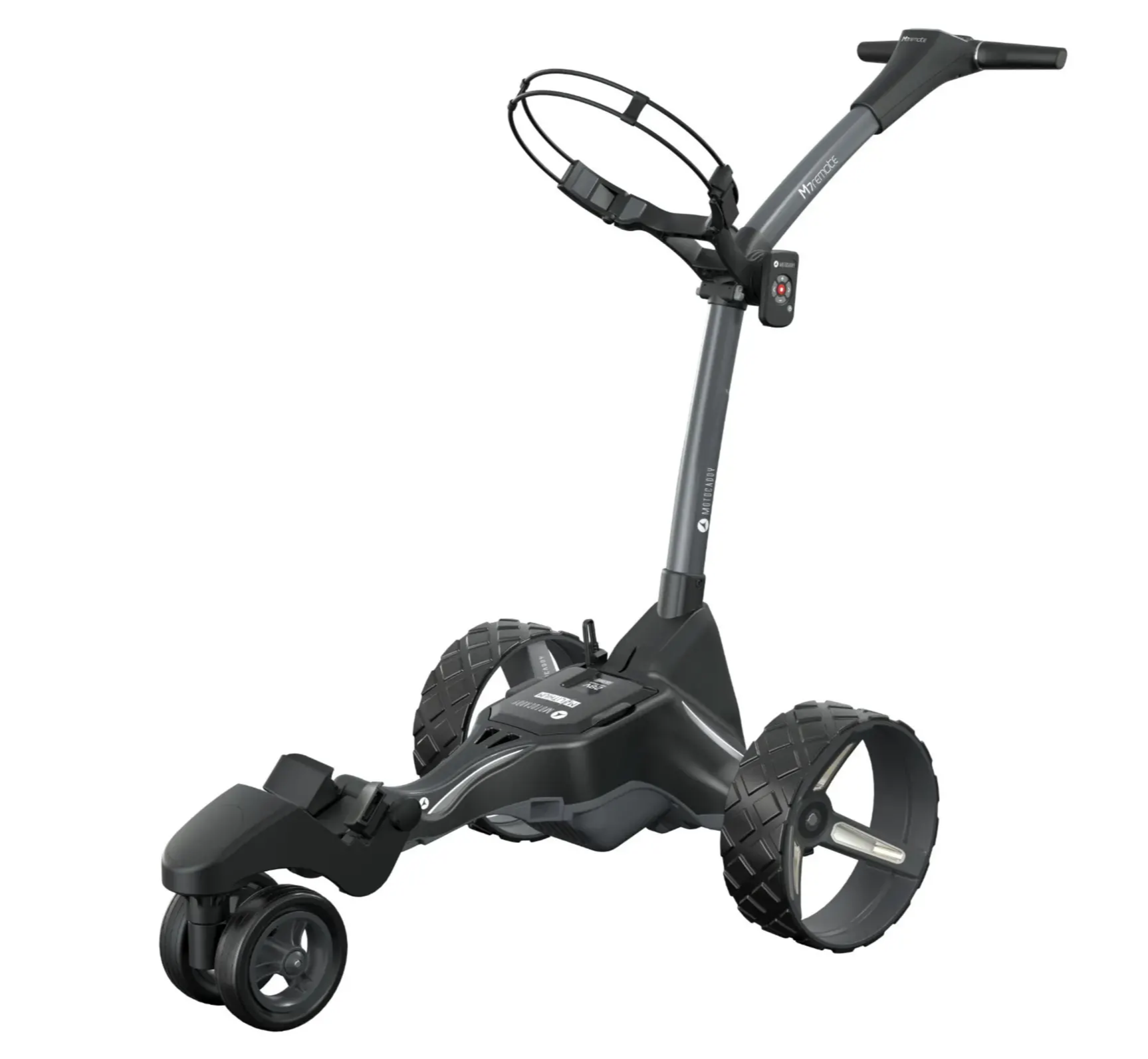 ---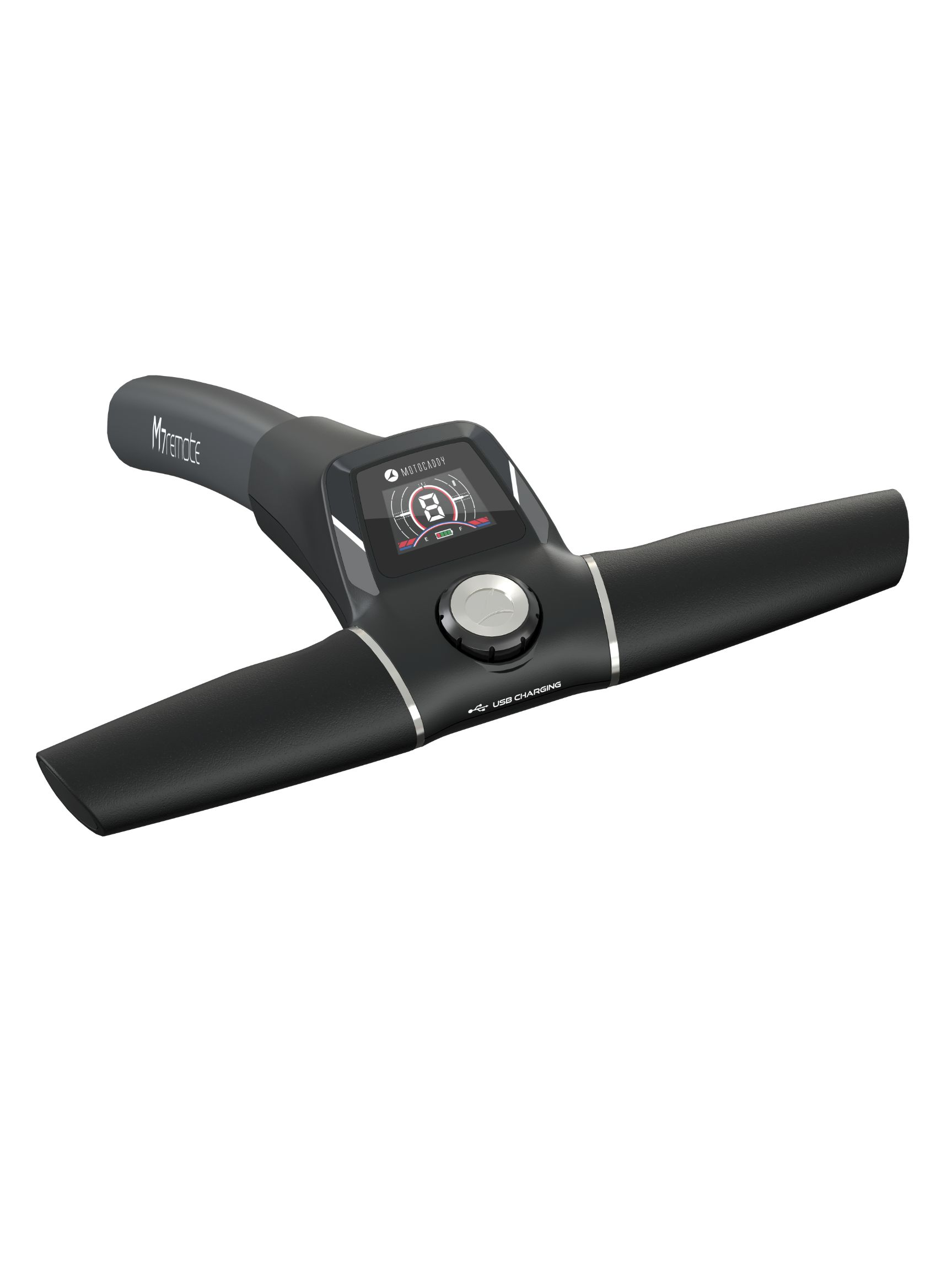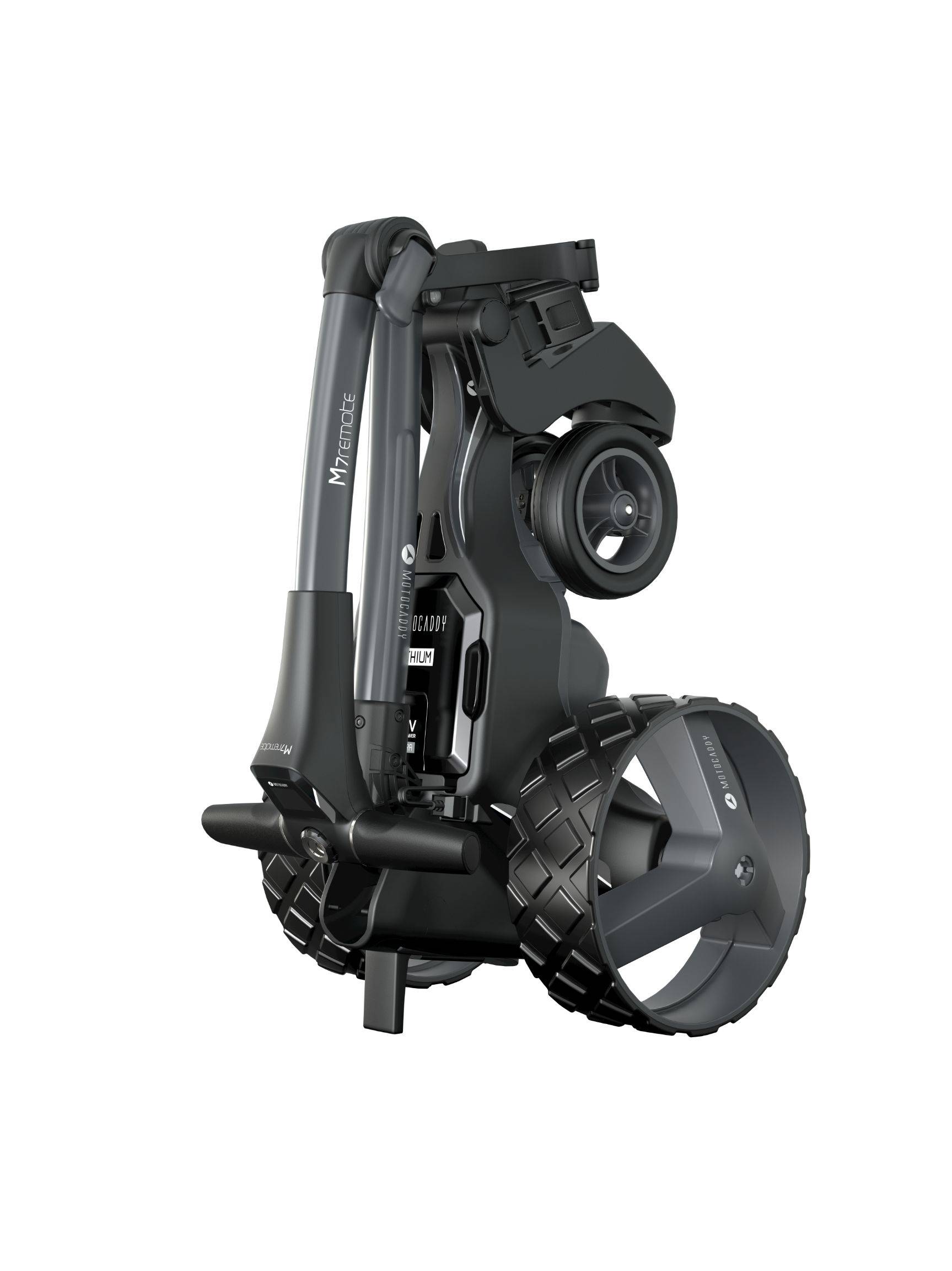 Features
Rechargeable remote control handset
Forward, left, right & reverse controls
Pause & resume, plus emergency stop
Automatic Downhill Control
Easy manual control mode
Rear anti-tip wheel
50m range cut-out & 120 second hibernation
Remote handset lock function
Simple, compact-folding system
SlimFold car boot friendly design – fits into the smallest car boots
Next generation, High Power 28.8V system
Anti-glare LCD screen
Nine speed settings, Speed indicator & Battery meter
On screen remote handset battery meter
USB charging port
Super-lightweight, waterproof Lithium battery – IP66 water & dust rating
On board charging - no need to remove battery for storage & transportation
Oversize tubing for ultimate handle stability
Innovative inverting wheels
Convenient auto-open stand
Simple, fully-adjustable handle height
EASILOCK compatible
2-year warranty on the caddy & 5-year warranty on the battery
30-Day money back guarantee (see Warranty information)
Free Shipping in the continental U.S.A.
---
Specifications
Remote Control: Yes
Electronic Braking System: Yes
Speed Control: Adjustable
Motor: Dual 230 Watt
Drive Train: Rear Wheel Direct Drive
Battery: 36 hole 28.8v
Charger: Input: 110-240V AC
Weight: 31.7 Lbs
Dimensions: Folded: 650mm (L) x 470mm (W) x 420mm (H)
Warranty
We are proud to say that we are an Authorized Dealer for all of the brands we carry. All of our products come directly from the manufacturer and are covered by the Manufacturer's Warranty from the date of the original purchase, subject to the conditions and limitations.
Motocaddy Warranty Overview
The cart and charger are covered by a 24-month warranty from the date of purchase. The warranty covers manufacturing defects that occur during normal use. Any breakage caused by accidental damage or as a result of abuse or misuse (as set out in the relevant manual) or commercial use is not covered. Motocaddy batteries are covered by a separate 24-month warranty.
Complete details are available on the Motocaddy Warranty page
Returns
We want you to be happy with your purchase and enjoy it for many years to come. If you decide you want to return your product, we will gladly assist you in the process. Please see our Return Policy for details.
Why Buy from Golf Caddie Outlet
FREE Shipping: Shipping is FREE within the continental United States on all orders over $99.
NO Sales Tax: You won't pay sales tax (unless shipping to Georgia)
Lowest Price Guarantee: We provide you with the lowest prices available online. If you find any of our products cheaper online, we will beat their price (note: products must be sold on Authorized Dealer website).
Authorized Dealer: Golf Caddie Outlet is an Authorized Dealer for all the brands we carry. All products ship directly from the manufacturer Brand New with a full warranty on file with the manufacturer.
100% Safe & Secure Checkout: We transmit website data over an encrypted SSL connection to ensure your credit card information is 100% protected. Additionally, our system does not store credit card information.
Excellent Customer Service: Have a Question? Need Advice? We are here to help. Just write us at info@golfcaddieoutlet.com or call us at

800-995-1627.
The M7 is part of an M-Series which includes additional models. The M-Tech and the M5 GPS DHC. You can also view the entire Motocaddy line of caddies here.
---
---
Customer Reviews
11/27/2021
Happy Customer
So far so good.
Peter H.

United States
08/09/2021
Excellent Product
The M7 has been a treat to use. My golf course is in the hills and it is up and down with some very steep slopes and the M7 takes it smoothly. Golf Caddie Outlet was good to deal with through out the purchase process and delivery.
Garry H.

United States
02/23/2021
Great Customer Service
I haven't had a chance to use the new electric caddy yet but the customer service I received from Caddie Outlet was outstanding!
James D.

United States
07/13/2020
Motocaddy M7 Remote
The Motocaddy M7 Remote is a little temperamental. Occasionally it swings slightly right or left without warning, so its directions requires adjustments on the go. Very speedy though and very quiet, once the swerving will be resolved it will be a better product. Too bad it doesn't have the automatic shut off once outside 50 meters (originally listed as a new feature but not actually included).
Emanuele G.

United States