IMPORTANT: This is a pre-order which will ship late September!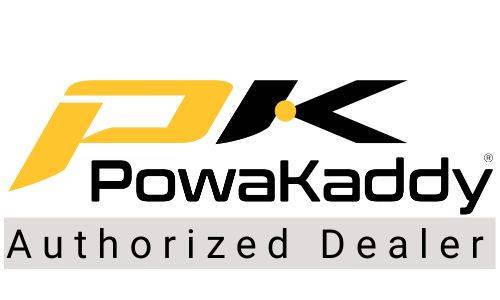 Estimated Arrival: Between Jun 08 and Jun 11. *ETA to USA Only
Shipping & Returns: Free Shipping on most orders over $99. See our Shipping Policy for more info.
Overview
The world's smallest GPS trolley.
The all-new CT6 GPS gives golfers the opportunity to enjoy smarter power. This model boasts a fully-integrated GPS, accessible via a new 2.8" OCA TFT full-color widescreen display, making it the smallest, most intelligent ultra-compact golf trolley in the world.
This high-performance model comes pre-loaded with over 40,000 courses worldwide with no annual fees or subscriptions.
Simple-2-Fold system in the CT series folds 20% smaller than the previous PowaKaddy Compact C2i models and 35% smaller than its nearest competitor on the market.
The CT6 GPS includes the PowaKaddy Electronic Braking System (EBS), a self-sensing system that automatically slows the caddie on steep inclines.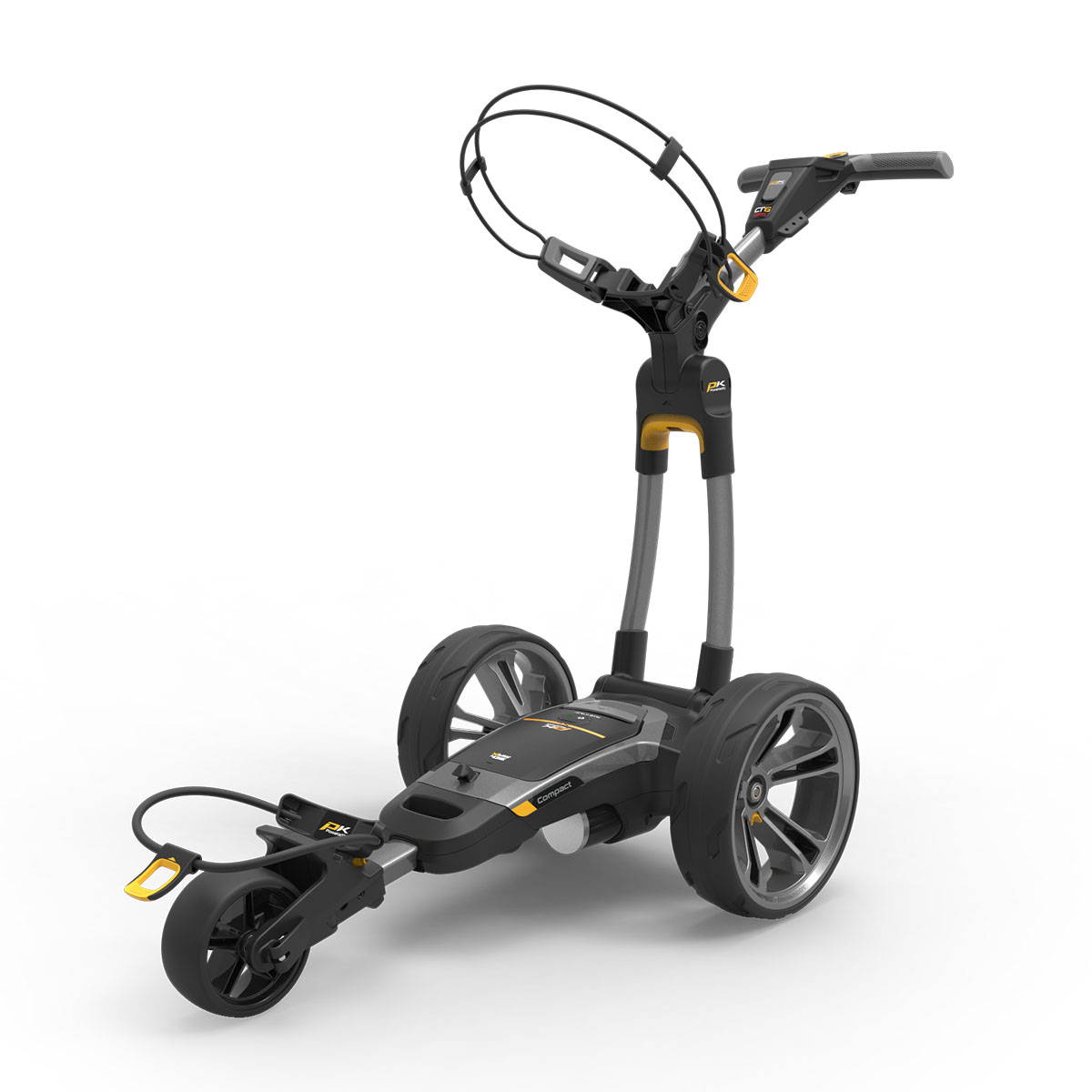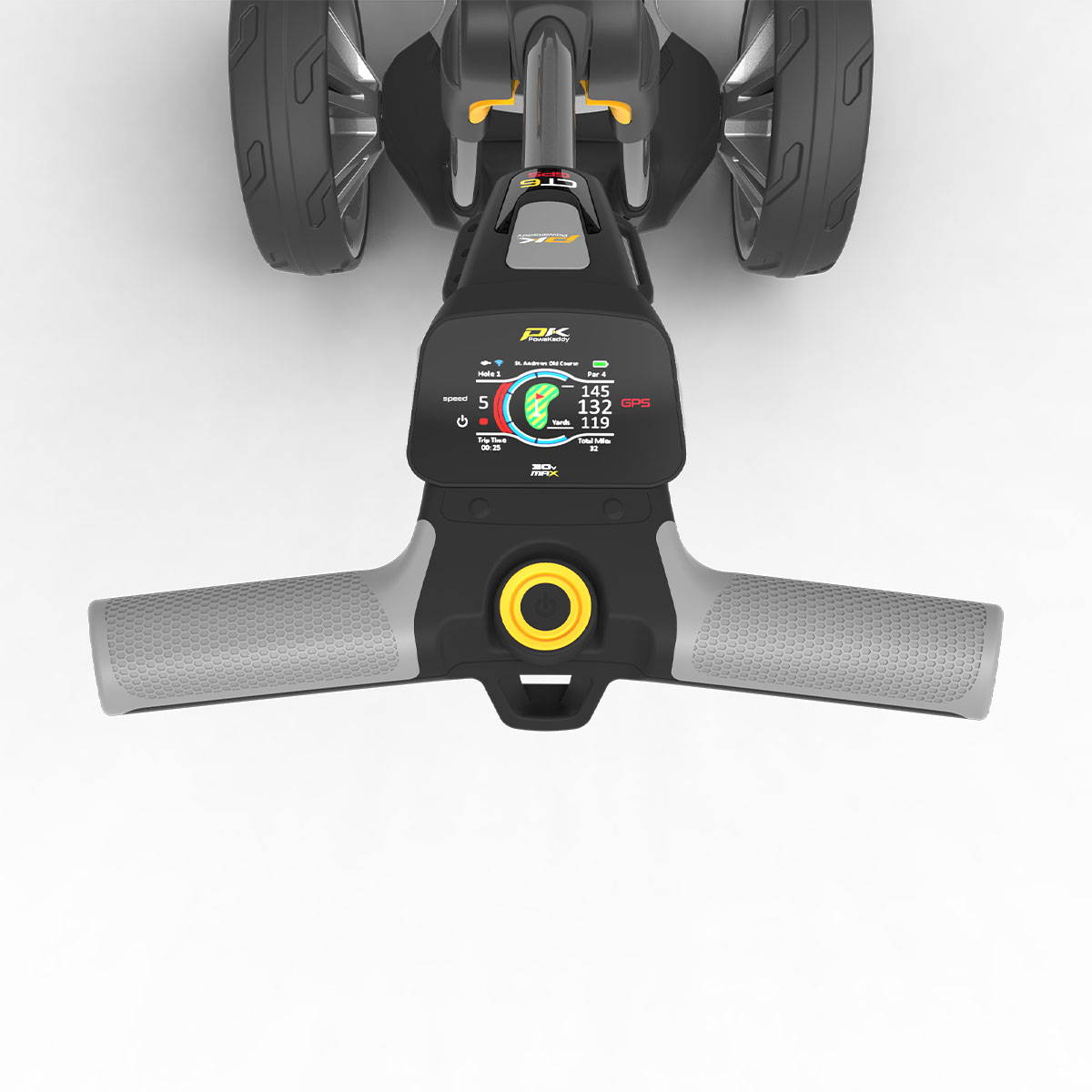 Fully Integrated GPS along with all the great features of the CT6
New Widescreen 2.8" OCA mid-size Full Color TFT display
Fast, accurate distances to front, center, and back of the green.
Locates your course automatically when you are ready to play
Auto advance from hole-to-hole
40,000 golf courses preloaded from across the world.
Bluetooth Connected App for iOS and Android allows for quick golf course updates
ADF – Automatic Distance Function
Electronic Brake System (EBS) adjusts automatically to slow the trolley on steep inclines
2-year warranty on the cart and 5-year warranty on the lithium battery
30-day money back guarantee (see Warranty information for details)
Free shipping in the continental U.S
---
Lightweight, ultra-compact Simple-2-fold™
Assembles swiftly with effortless motion and folds down to fit the smallest of spaces
NEW 2.8" OCA mid-size Full Colour TFT widescreen display
The Transflective display enables clear sharp viewing in all weather conditions
New high power 30-volt speed controller system
Improved speed control
High Performance integrated Golf GPS
– Delivers fast, accurate distances to the greens, hazards and doglegs.
– Automatically locates the course and auto advance hole to hole.
– Accurate distances to the front, centre and back of the green.
– Preloaded with over 40,000 courses worldwide.
– No annual fees or subscriptions.
Bluetooth Connected App for iOS and Android
Allows for quick golf course updates
New LCD backlight control system
Power save mode is enabled and the back light goes off after 20 minutes of non-use
New Hall Effect Transducer (HET)
For greater downhill control (applies to optional EBS model)
Height adjustable soft touch handle
Adjusts to your perfect height
New High-performance low profile Powaframe chassis
Looks stylish and protects vital components. Easy to clean with optimum ground clearance
New Anti-Tamper Dial Control
Prevents you from accidently turning the trolley on
New High Power Plug'n'Play™ 30v battery system
The most powerful, thinnest and lightest lithium batteries on the market with NEW Push power button LED
New whisper quiet powerful 30volt 230-Watt motor
Exceptional power for all types of terrain
USB Charging Port
Quickly charge your smartphone or GPS Device
ADF – Automatic Distance Function
Automatic distance function – choose from 15 / 30 / 45 yards
Warranty – 2 years for the trolley and 5-year full for the lithium battery*
PowaKaddy peace of mind guarantee
Premium metallic frame colour
Stylish modern colour
Optional Automatic Electronic Braking System (EBS)
Self-sensing EBS automatically slows the trolley on steep inclines

Quick folding lightweight and strong alloy frame
Sleek looking with extra strength
Integrated carry handle
Makes transporting your trolley easier
Integrated tees holder
Keep your tees handy
Power on/off LED indicator
To put the trolley in to standby mode
Power, Pause and Resume Function
Pull off at the same speed you stopped at.
Digital power gauge
View your trolleys power setting
Speed Display
Switch between Mph and Kph
Clock
Switch between time and elapsed time
Round Timer
Displays time of your round
Metres/Yards
Switch between metres or yards
Battery fuel indicator
Quickly view battery capacity
Striking metallic low-profile sports wheels
Quiet running on hard surfaces and easily removable for extra storage space
Front wheel adjustment
Straight line correction
Exclusive trims
High gloss design trims add a sporty look to the trolley
PowaKaddy Key-lock™ Bag System
Stops your PowaKaddy bag from twisting
Bungee straps with integrated anti pinch handles
Provides secure bag retention
Ambidextrous control
Comfortable handling for left and right-handed golfers
* Terms & Conditions apply. Please see warranty terms for further details.
---
Specifications
Remote Control: No
Speed Control: Adjustable
Motor: Single 30V 230 Watt
Drive Train: Rear Wheel Direct Drive
Battery: Power Plug'n'Play™ 30v
Charger: Input: 110-240V AC
Weight:

Frame: 21.8 Lbs
Battery: 4 Lbs
Total: 25.8 Lbs

Dimensions:

Folded: Width: 16.7", Height: 20.1", Depth: 14.8"
Unfolded: Width: 21.8", Height: 37.6", Depth: 46"
Warranty
We are proud to say that we are an Authorized Dealer for all of the brands we carry. All of our products come directly from the manufacturer and are covered by the Manufacturer's Warranty from the date of the original purchase, subject to the conditions and limitations.
PowaKaddy Warranty Overview
All Powakaddy electric carts have a two-year warranty on parts and labor. The lithium battery comes with a 5-year prorated warranty. The battery is fully covered the first 2 years and then is prorated for 50% replacement cost in the 3rd year, 75% in the 4th year, and 85% in the 5th. Products may be returned within 30 days of purchase for a full refund, less credit card fees and shipping and handling if certain criteria have been met.
Complete details are available on the PowaKaddy Warranty page
Returns
We want you to be happy with your purchase and enjoy it for many years to come. If you decide you want to return your product, we will gladly assist you in the process. Please see our Return Policy for details.
Why Buy from Golf Caddie Outlet
FREE Shipping: Shipping is FREE within the continental United States on all orders over $99.
NO Sales Tax: You won't pay sales tax (unless shipping to Georgia)
Lowest Price Guarantee: We provide you with the lowest prices available online. If you find any of our products cheaper online, we will beat their price (note: products must be sold on Authorized Dealer website).
Authorized Dealer: Golf Caddie Outlet is an Authorized Dealer for all the brands we carry. All products ship directly from the manufacturer Brand New with a full warranty on file with the manufacturer.
100% Safe & Secure Checkout: We transmit website data over an encrypted SSL connection to ensure your credit card information is 100% protected. Additionally, our system does not store credit card information.
Excellent Customer Service: Have a Question? Need Advice? We are here to help. Just write us at info@golfcaddieoutlet.com or call us at

800-995-1627.
---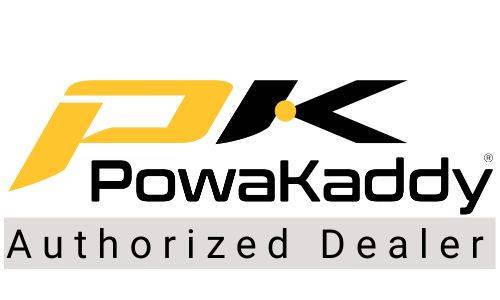 The CT6 GPS with EBS is part of a C-Series which includes an additional model. The CT6! You can also view the entire Powakaddy line of caddies here.
---
---
Customer Reviews
09/09/2021
Can't pair with my iPhone
The gps can't pair with my iPhone even I input the serial no. Numerous time! The only thing I can think of is maybe I got poor cellular signal in my neighborhood?!
Kevin W.

United States
08/06/2020
Great decision!!!
I've only had it about 10 days but so far, the decision to purchase it was definitely a winner! So glad I have GPS/EBS! I'm sure I'll learn more about it in the upcoming rounds of golf. I play 5-7 days a week so I'll get lots of practice! Thanks!!
Hilda R.

United States
08/05/2020
Powakaddy CT6 GPS
Once I figured out why it wasn't self-propelling at all, and I switched the wheels from wrong side out to right side out, I LOVE THIS POWAKADDY!! I can set the speed faster than I can keep up if I want, and it powered right up a very steep slope. (While I probably should have figured it out from the start, it would have been helpful for a diagram of putting the wheels on).
Michael S.

United States
08/04/2020
Battery Length
Have only used it once. It was not and hilly. Was surprised 3/4 of battery (36 hole version) was used. Means a regular battery may not have made it thru the round. I'll see what kind of results I get on a flat course.
Gerald P.

United States