Estimated Arrival: Between Mar 29 and Apr 01. *ETA to USA Only
Shipping & Returns: Free Shipping on most orders over $99. See our Shipping Policy for more info.
Limited Time Offer: Until the end of the sale, the Stewart Q Follow comes with a FREE Beverage holder, Umbrella holder & Remote skin cover.

Experience the golf course in the purest way with Follow technology. Walk hassle-free down the fairway and leave your worries behind you as you get the pro-like experience of being able to focus completely on your golf.


The all-new Q Follow features the very latest seventh generation of Stewarts proprietary Follow technology. Engineered to allow you to walk the fairway with zero distractions, this is the perfect way to walk.


Cutting edge tech has never been so simple to use... Follow mode is activated at the touch of a button. The Q Follow tracks the movement of the handset: as it moves from the Neutral to the Active zone, the system independently alters the speed of the dual EcoDrive motors to maintain speed and direction.

When required, simply guide the trolley using the soft touch handle. This is perfect for bridges, car parks and any situation where the machines needs careful guidance.


The Q Follow is the most compact Follow machine Stewart has ever made. The microcellular composite monocoque chassis folds in a few simple steps to fit in almost any car, and will take up next to no room in your garage or home.


Featuring a rechargeable lithium battery and secure Bluetooth connectivity, the compact handset gives you complete and consistent control throughout your round. With up to a 50m range, you have total flexibility to walk independently of your trolley. When you want to completely forget about it, simply engage Follow mode, clip the handset to your belt or back pocket and walk ahead.
Previou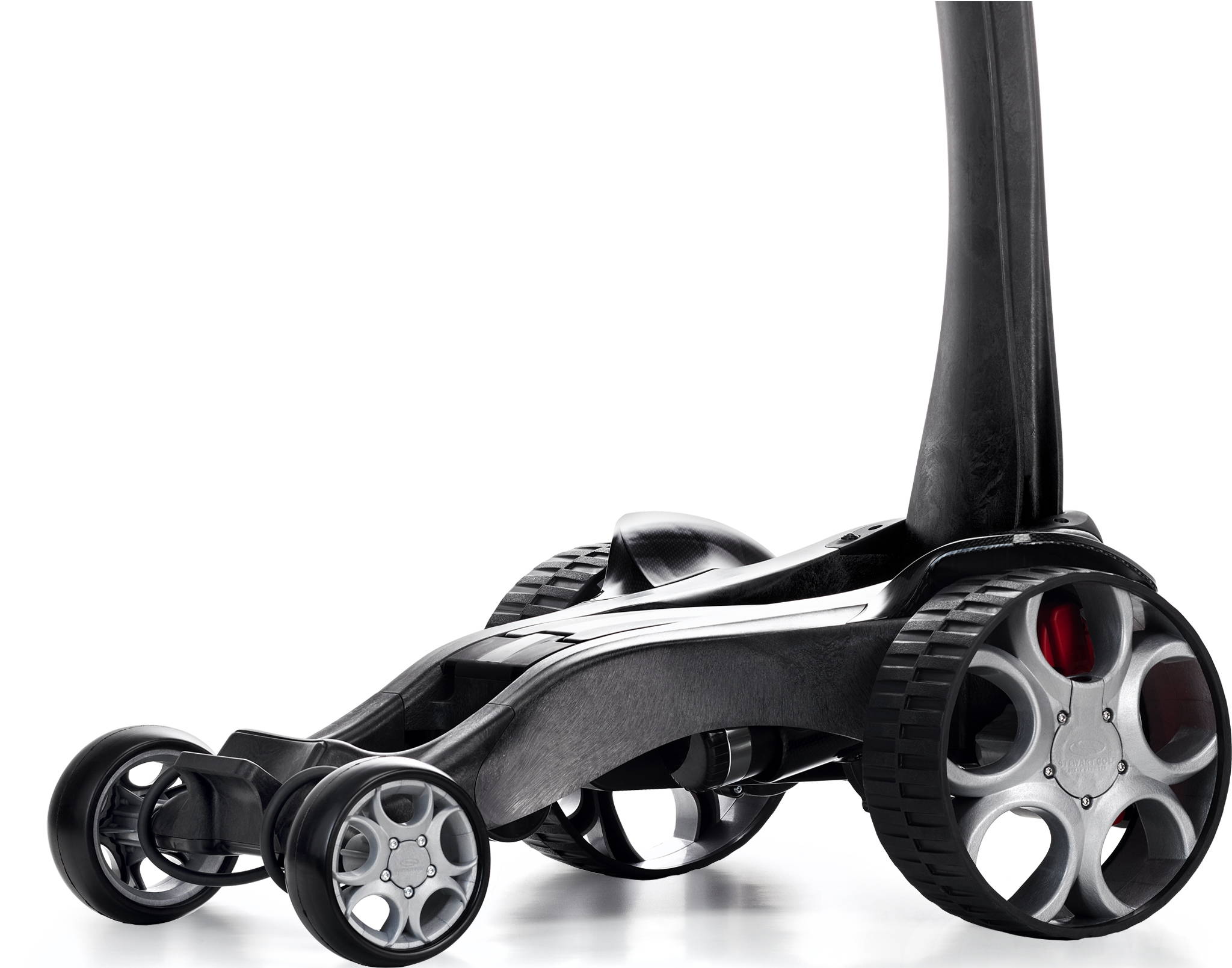 ---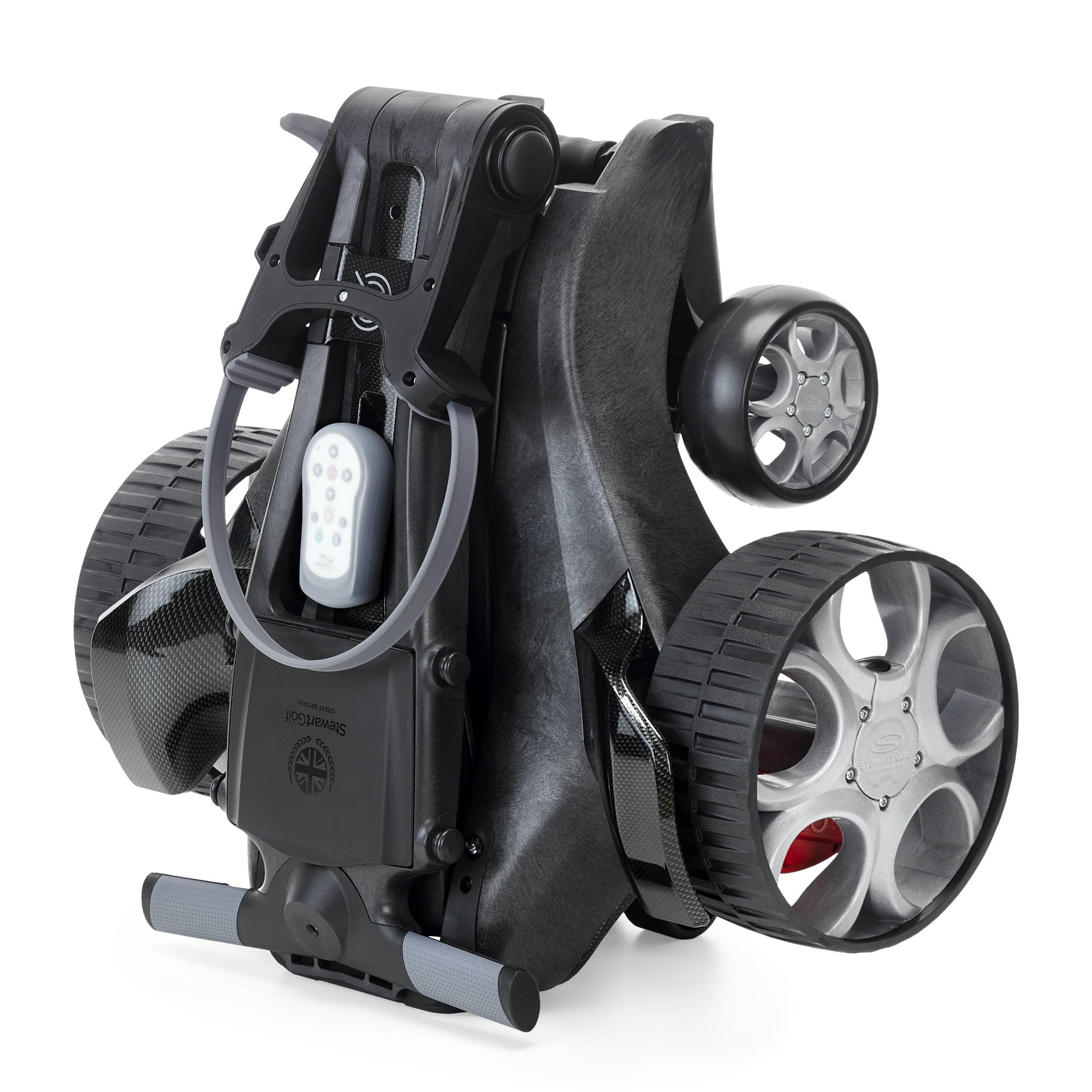 Extremely durable sleek and sporty frame.
Automatic shut down after going beyond 150 feet.
12v extended capacity lithium battery pack complete soft case, a charger can go 18-holes on a single charge depending on terrain.
Multi-function handle with scorecard & pencil holder.
Soft touch Handle and Handset Cradle.
Automatically retracting stabilizer Anti-tip wheel.
Eco-Drive Motors to extend battery life.
Handset Storage.
Bluetooth Connectivity.
Free Wheel Mode.
Weight: 31.09 LBs.
Battery Weight: 18 Ah: 6.19 LBs, 30Ah: 7.72 LBs.
2-Year warranty on the caddy and Lithium battery
30-day money back guarantee (see Warranty information for details)
Free shipping in the USA
---
Specifications
Follow-Mode: Yes
Remote Control: Yes
Free-Wheel Mode: Yes
Speed Control: Adjustable
Motor: Dual 190 Watt
Drive Train: Rear Wheel 4-Way Drive
Battery: 12v 22Ah or 12v 30Ah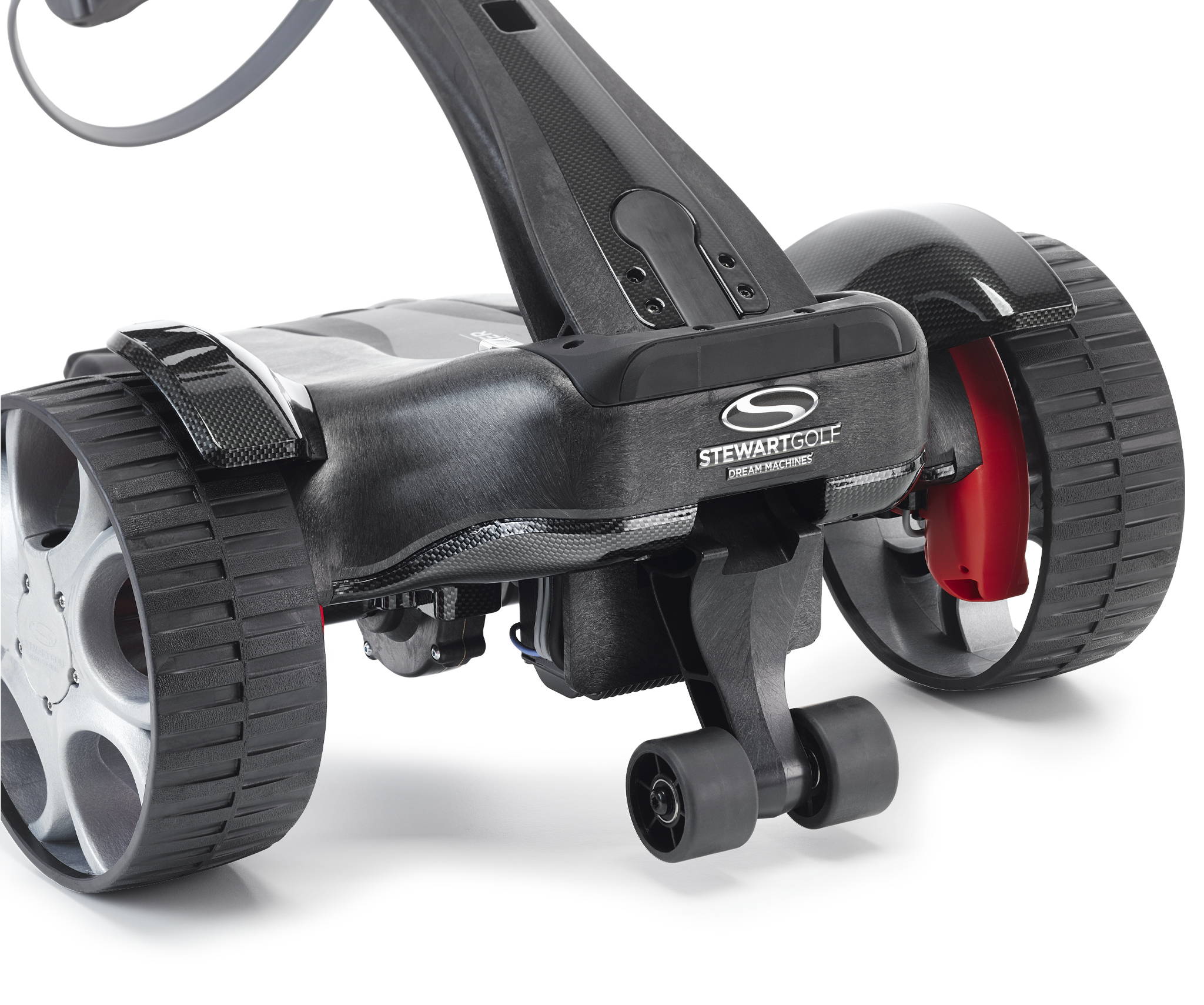 Warranty
We are proud to say that we are an Authorized Dealer for all of the brands we carry. All of our products come directly from the manufacturer and are covered by the Manufacturer's Warranty from the date of the original purchase, subject to the conditions and limitations.
Stewart Golf Warranty Overview
All Stewart electric carts have a two-year warranty on parts and labor. The lithium battery also has a two-year warranty. Products may be returned within 30 days of purchase for a full refund, less credit card fees and shipping and handling if certain criteria are met.
Complete details are available on the Stewart Golf Warranty page
Returns
We want you to be happy with your purchase and enjoy it for many years to come. If you decide you want to return your product, we will gladly assist you in the process. Please see our Return Policy for details.
Why Buy from Golf Caddie Outlet
FREE Shipping: Shipping is FREE within the continental United States on all orders over $99.
NO Sales Tax: You won't pay sales tax (unless shipping to Georgia)
Lowest Price Guarantee: We provide you with the lowest prices available online. If you find any of our products cheaper online, we will beat their price (note: products must be sold on Authorized Dealer website).
Authorized Dealer: Golf Caddie Outlet is an Authorized Dealer for all the brands we carry. All products ship directly from the manufacturer Brand New with a full warranty on file with the manufacturer.
100% Safe & Secure Checkout: We transmit website data over an encrypted SSL connection to ensure your credit card information is 100% protected. Additionally, our system does not store credit card information.
Excellent Customer Service: Have a Question? Need Advice? We are here to help. Just write us at info@golfcaddieoutlet.com or call us at

800-995-1627.
The Q Follow belongs to a series of Stewart Caddies which includes the Stewart X10 Follow and X10 Remote. You can also view the entire Stewart line of caddies here.
---
---