IMPORTANT: The FREE accessories will be shipping early August.
Estimated Arrival: Between Jul 28 and Jul 31. *ETA to USA Only
Shipping & Returns: Free Shipping on most orders over $99. See our Shipping Policy for more info.
Limited Time Offer: Until the end of the sale, X10 Follow comes with a FREE Scorecard holder, Beverage holder, Umbrella holder & Remote skin cover.

The X10 Follow is not only designed to follow the golfer on the course, but it also has full remote-control functionality as well as a manual push mode. In Follow mode, the X10 will remain behind the golf and has the ability to adjust its own speed to keep pace with the golfer. In remote control mode, the X9 Follow can be driven using a simple-to-use remote control. This comes in handy when you don't want the caddie to follow you into the rough or a bunker.
The X10 Remote benefits from a low and central center of gravity and 4 wheels that keep it upright across all terrains. This balance is complemented by a world-leading electronics system that allows exceptional remote steering, making the cart extremely smooth and responsive to control on any challenging course.
The Stewart X10 comes standard with a 22AH 18+ hole lithium battery. Or choose to upgrade to the longer-lasting Extended Life 30AH lithium battery. Please make your selection at checkout time.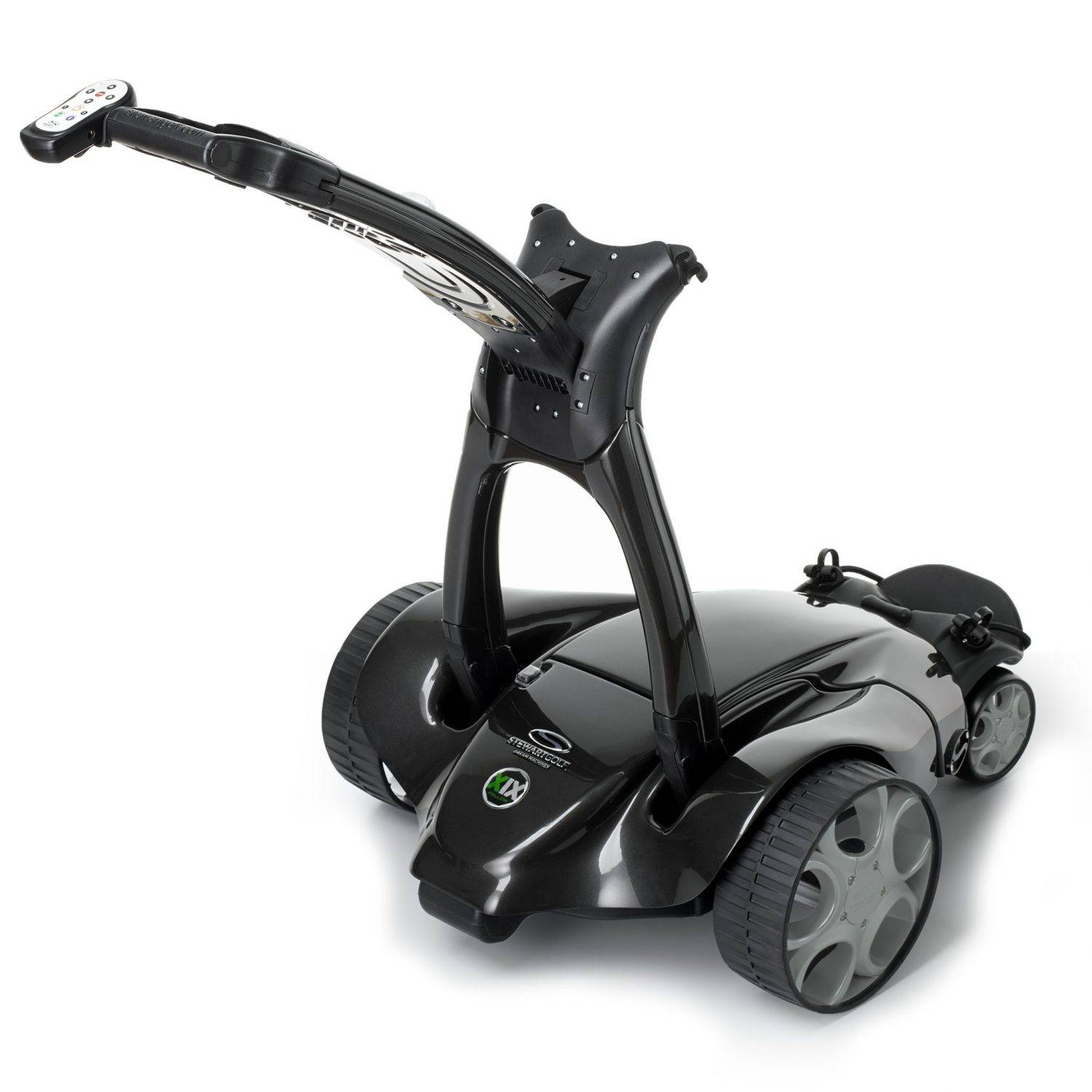 ---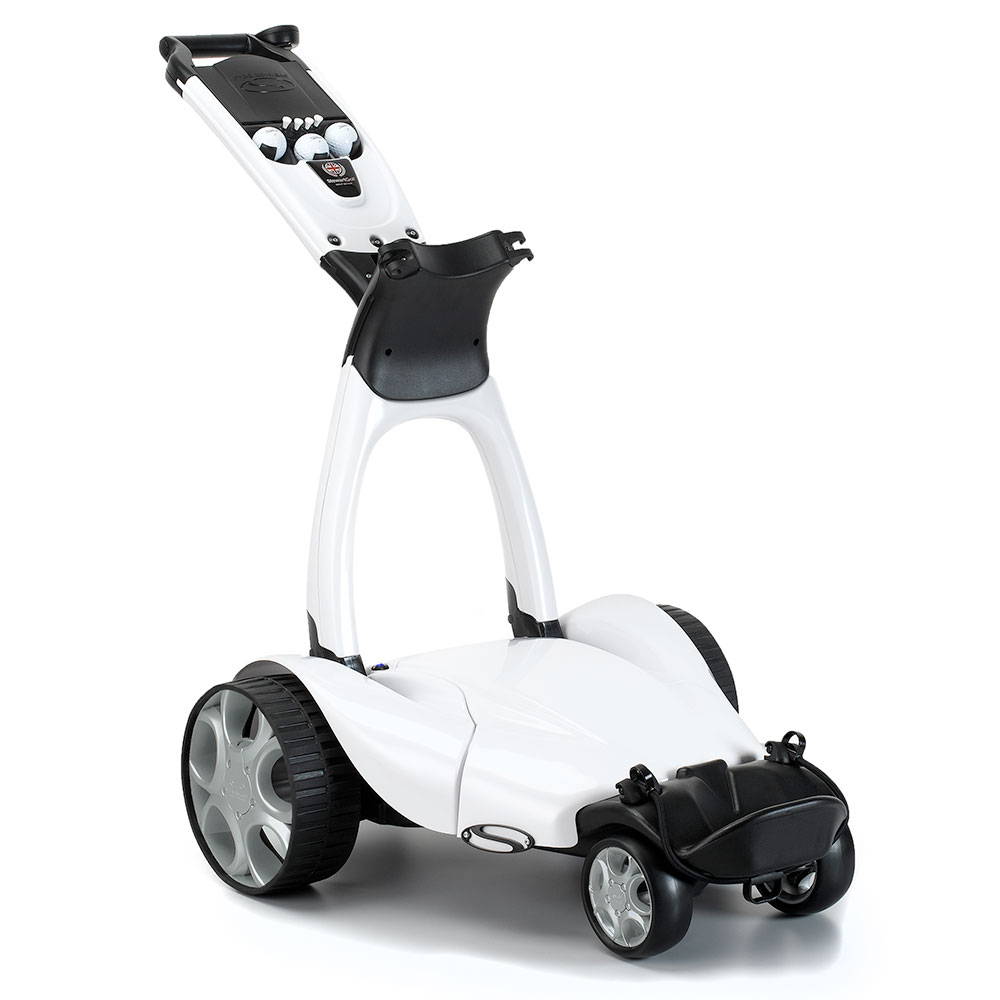 Extremely durable sleek and sporty frame.
Very quiet and easy to use  
Automatic shut down after going beyond 150 feet.
12v extended capacity lithium battery pack complete soft case, a charger can go 18-holes on a single charge depending on terrain.
Multi-function handle with scorecard & ball holder.
Free Wheel Mode
X10 Remote Weight: 31 lbs
Battery Weight: 6.6 lbs
2-Year warranty on the caddy and Lithium battery
30-day money back guarantee (see Warranty information for details)
Free shipping in the USA
---
Specifications
Follow-Mode: Yes
Remote Control: Yes
Free-Wheel Mode: Yes
Speed Control: Adjustable
Motor: Dual 190 Watt
Drive Train: Rear Wheel 4-Way Drive
Battery: 12v 22Ah or 12v 30Ah
Weight:

Frame: 31 Lbs
Battery: 6.6 Lbs
Total: 37.6 Lbs

Dimensions:

Folded: Width: 26", Height: 12.5", Length: 32.2"
Warranty
We are proud to say that we are an Authorized Dealer for all of the brands we carry. All of our products come directly from the manufacturer and are covered by the Manufacturer's Warranty from the date of the original purchase, subject to the conditions and limitations.
Stewart Golf Warranty Overview
All Stewart electric carts have a two-year warranty on parts and labor. The lithium battery also has a two-year warranty. Products may be returned within 30 days of purchase for a full refund, less credit card fees and shipping and handling if certain criteria are met.
Complete details are available on the Stewart Golf Warranty page
Returns
We want you to be happy with your purchase and enjoy it for many years to come. If you decide you want to return your product, we will gladly assist you in the process. Please see our Return Policy for details.
Why Buy from Golf Caddie Outlet
FREE Shipping: Shipping is FREE within the continental United States on all orders over $99.
NO Sales Tax: You won't pay sales tax (unless shipping to Georgia)
Lowest Price Guarantee: We provide you with the lowest prices available online. If you find any of our products cheaper online, we will beat their price (note: products must be sold on Authorized Dealer website).
Authorized Dealer: Golf Caddie Outlet is an Authorized Dealer for all the brands we carry. All products ship directly from the manufacturer Brand New with a full warranty on file with the manufacturer.
100% Safe & Secure Checkout: We transmit website data over an encrypted SSL connection to ensure your credit card information is 100% protected. Additionally, our system does not store credit card information.
Excellent Customer Service: Have a Question? Need Advice? We are here to help. Just write us at info@golfcaddieoutlet.com or call us at

800-995-1627.
---
---
Customer Reviews
06/22/2018
Jim K.
United States
GETTING RIGHT
TOM WAS VERY HELPFULL IN GETTING THINGS DONE , THANK YOU SO MUCH TOM FOR ALL OF YOUR HELP, JIM KEITH
Great trolley we love it!
My wife and I purchased the Stewart X9 from the Golf Caddie Outlet store. It's been a great caddy so far. We have no problems recommending it after using it for a few months. If you can afford a high-end trolley you can't get anything better.
04/27/2018
Ted B.
United States
X9
Extended battery didn't last 27 holes. Advertised to do 36.